British Telecom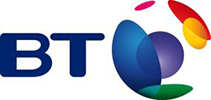 BT is one of the world's leading communications services companies, serving the needs of customers in the UK and in more than 170 countries worldwide. Its main businesses are the provisioning of fixed-line services and the delivery of broadband, mobile and TV products and services as well as networked IT services. The leading communications services provider in the UK, BT sells products and services to consumers, small and medium-sized enterprises and the public sector.
As part of British Telecommunications plc (BT), BT Wholesale is Europe's largest wholesaler, providing traditional and next-generation services and managed solutions to over 1,300 mobile and fixed line operators, internet services providers, broadcast organizations and resellers in the UK.
Market Focus:
BT provides an IPX (IP Exchange) platform that enables communications providers to seamlessly interconnect their networks for VoIP-to-VoIP and VoIP-toTDM voice calls, HD voice, video, data, and rich multimedia services. BT's IPX service enables carriers to quickly implement and scale end-to-end IP interconnectivity with minimum upfront investment. It is designed to simplify the technical and commercial complexity of achieving IP interoperability, leaving customers free to concentrate on meeting the needs of their end customers.
What's New:
BT is focused on delivering new innovative interconnect offerings that enables fixed and mobile carriers to monetize the emerging SIP/IP interconnect models, while reducing network costs and operational risks by assuring interworking with the growing volume of peering and managed interconnect services.
Why BT Chose Ribbon:
Ribbon was closely involved with BT from the project conception and design, and provided the complete end-to-end IPX solution, including pre-installation, project managements, and integration with BT's existing core network components.Ribbon's understanding of BT's requirements, leadership in delivering market-leading IP Interconnect infrastructure, and responsiveness and commitment to fulfill BT's vision were very impressive.
Why BT Chose Ribbon's IPX Solution:
Ribbon provided a very comprehensive, standards-compliant and highly scalable IPX solution that enables the interworking of traffic from GSM and non-GSM operator networks, TDM-based fixed and mobile networks, SIP-based NGN and IMS VoIP and multimedia networks, and OTT providers.
Business Case / Deployment Benefits:
The SMART SESSION IPX solution delivers several unique capabilities that are designed to drive costs out of the overall IPX solution. The solution's architecture enables operators to offer new multimedia exchange service,s such as Voice, HD Voice, Video federation, RCS-e interconnects, and OTT federation over common platform infrastructure. .
Customer Benefits:
The Ribbon-powered solution extends service reachability by interconnecting with a large community of service providers across the globe and and improves their time to market with new interactive IP services, such as voice, video and RCS, over an end-to-end IP Network backed up with QoS and SLAs.