Yorkville University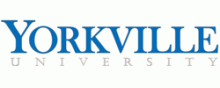 Yorkville University is a private and non-denominational Canadian educational institution that offers leading professional degree programs through a combination of on-campus and online learning. The University's programs include the RCC Institute of Technology and the Toronto Film School. Yorkville offer adult learners the opportunity to complete a college degree while balancing other life commitments; providing a supportive, highly collaborative and interactive learning community.
Yorkville's charter is to provide academic programs to people who, for reasons of geographic remoteness, health and disability conditions, and family, work or community obligations, would otherwise not be able to complete post-secondary education. It was only natural for Yorkville University to turn to the cloud to communication enable their faculty and staff.
Why Kandy Business UC
Kandy Business Solutions (KBS) provides Yorkville faculty and staff the core PBX services they need to stay connected across multiple locations. In addition to traditional voice services, the Kandy platform offers advanced Unified Communication (UC) clients and services to address the organization's growth in size and sophistication. Kandy's portal management and focus on ease of use meant that Yorkville was ability to quickly transition from legacy premises-based PBX hardware to the cloud, without disrupting business activities.
Yorkville rapidly deployed IP phones and then quickly extended the reach of the Kandy cloud with UC clients on computers, smartphones, and tablets. Faculty and staff can stay connected to campus and students from virtually anywhere and on virtually any device. This one-number solution allows faculty and staff to make and receive calls from students and co-workers as if they were in the office, without exposing their personal mobile number.
Benefits of Kandy Business' Cloud UC
Cost Savings - Traditional phone systems and PBXs are expensive to maintain and require a large capital investment to update or replace. Kandy takes all of the guesswork away by offering a cost-effective, pay-as-you-grow, service. It doesn't skimp on quality or features, won't hurt the bottom line, and will continue to deliver innovative services year after year.
Scalability - It doesn't matter if your organization needs 5, 10, or 10,000 lines, Kandy's carrier-class heritage, and worldwide presence will deliver reliable service. As your organization grows your Kandy Business services can grow with you, adding both scale and enhanced services, as needed.
Easy to Manage - Phones and clients are designed for plug and go deployment. A multi-level web portal makes it easy to define specific administrative roles to local staff. End users don't have to bother IT staff to make simple changes, Kandy Business makes moves, adds and changes quick and cost effective.
Yorkville University Testimonial - Kandy UCaaS
Yorkville University Testimonial - Kandy UCaaS
Unified Communications as a Service by Kandy.