Understanding the Value of a Communication Platform as a Service (CPaaS) Offering
Kandy is a white-label global Real Time Communications Platform as a Service (CPaaS) that allows Communication Service Providers (CSPs), Independent Software Vendors (ISVs) and Systems Integrators (SI) to rapidly embed real time communications into their applications.
Kandy connects to your communication network using SIP trunks and telco interfaces and enables it with APIs and programmable communications that abstract the complexities of the network into simple function calls that regular web developers can understand. Furthermore, those APIs are concentrated into SDKs for iOS, Android and JavaScript that facilitate the activation of Kandy communication capabilities from your development environment of choice.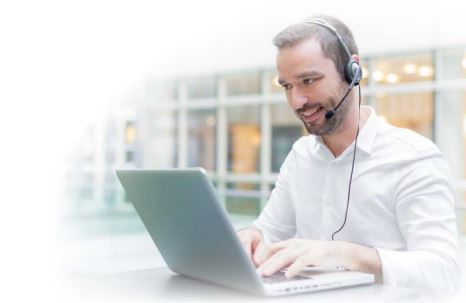 Kandy APIs allow you to easily add:
Voice – IP-to-IP voice calls, SIP Trunking for PSTN calling and full WebRTC functionality including click to call.
Video – High quality, low-latency video with scalable resolution. With full WebRTC functionality, your applications will come alive on both web and mobile platforms
Messaging – Full text/SMS functionality for applications including MMS and Rich Messages with pictures, video, group messaging, location and contact sharing
Collaboration – Team communications and customer service using presence, co-browsing screen sharing and WebRTC voice and video enabling a truly immersive collaboration experience
Chat – Interactive one-on-one and group chat with presence, address book, enterprise directory and file sharing of pictures, videos and files
Two Factor Authentication and more.
Kandy is a full feature communications platform that will provide you with all the tools you need to allow your users to stay connected
Kandy UCaaS with CPaaS Innovation
Kandy also delivers a white-label interactive suite of turn-key cloud Unified Communication services (or UCaaS) such as Cloud PBX, Cloud Contact Center and Cloud Collaboration. Packaged apps, Kandy Wrappers, can then be added to extend those services or conversely delivered in concert with existing investments. Use our clients or the most popular business tools. And of course our rich APIs can bring UC services into your own web or mobile apps. Regardless of how your organization communicates, Kandy unifies the experience. You can even layer on Kandy CPaaS for Programmable Embedded Communications.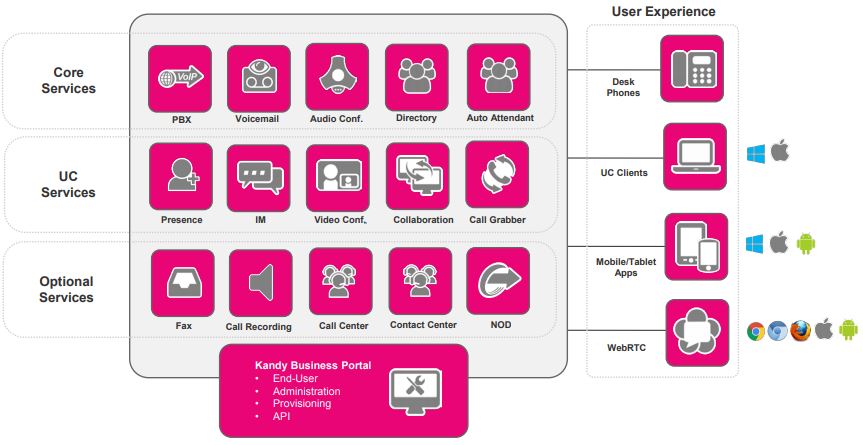 CPaaS APIs and SDKs
The communications landscape is changing at a fast pace. The user's behavior is shifting from a device centric approach to a persona-based approach where communications are an integral part of their specific workflow. Users don't want to step out of their activities to pick up the phone and dial a contact, they want to be able to initiate the communication from within the applications they use every day.
This means sales oriented staff want to be able to make and receive calls in their CRM application, doctors want to be able to contact patients from their EHR system and share X-rays with them in real time, students want to be able to check tutor availability and contact them on demand from their campus website, and all of this with high definition voice and video, messaging, collaboration and more.
Kandy Solutions provide everything you need to achieve these immersive experiences with REST APIs that any web developer can understand—without any knowledge of SIP or other complicated telecom protocols—and that are delivered in rich SDKs for Android, iOS and JavaScript. Build Upon your UCaaS deployments with Kandy CPaaS APIs and SDKs.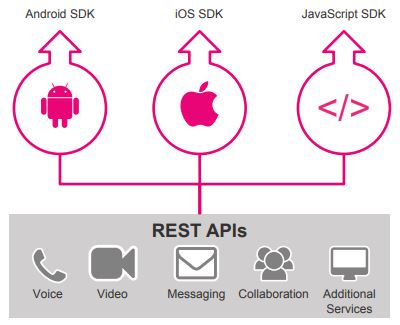 No WebRTC Knowledge Required – We got that covered for you
Quickstarts and reference applications
Plugins/Modules for Laravel, Drupal, Wordpress and Salesforce to facilitate integration into your favorite environments
iOS and Android reference applications
Mobile SDKs designed to preserve battery and provide optimal performance on unreliable networks
Access to REST APIs directly for full control from your preferred developer platform
Secure with HTTPS end-to-end encryption
An abundance of supporting materials

Tutorials for SDK installation, user registration, session initiation, etc.
Code samples that you can use in your own project and try live on CodePen
Developer support from a rich set of FAQs and dedicated support staff