What is OTT (Over-the-Top Communications)?
Over-the-top communications or OTT refers to a class of real-time communications solutions that operate over the Internet. Consumers and business users make use of OTT communications applications and services to collaborate and to reduce communications expenses––especially international calling and roaming fees.
What is OTT: OTT Communications Functions
Early OTT communications solutions were based on client-server or peer-to-peer architectures and featured proprietary clients for Windows or Macintosh PCs. A typical first-generation OTT communications client included a user directory (buddy list) and provided real-time voice chat and text chat capabilities. Newer OTT communications solutions support enhanced capabilities including presence-based directories, video chat, multiparty conferencing, screen-sharing and PSTN calling. Most OTT solution providers offer "thick" clients for various desktop and mobile operating systems. Many provide browser-based and WebRTC (Web Real-Time Communications)-based "thin" clients as well.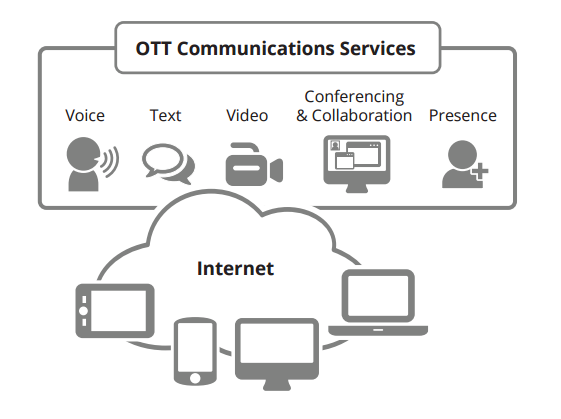 OTT Communications Advantages
OTT communications applications and services are used by both consumers and businesses. Consumers use OTT solutions to avoid international calling fees and to take advantage of advanced capabilities such as video calling. An expatriate may use an OTT solution to communicate with family members back home. Or parents may use an OTT solution to communicate with a child studying abroad. In many countries consumers use mobile OTT clients on WiFi access networks to avoid mobile minutes and SMS charges.
Businesses use OTT solutions to improve collaboration and reduce OPEX. Small and medium-sized businesses often use OTT solutions to reduce international calling fees. Enterprises often use mobile OTT clients on WiFi networks to avoid international calling fees and roaming charges when traveling abroad.
OTT Threats for Communications Service Providers
OTT communications services pose a significant threat for both fixed and mobile network operators. OTT services have led to increased subscriber churn and revenue loss for fixed-line service providers. An entire generation of "cord cutting" consumers have avoided traditional fixed-line residential services, relying solely on OTT applications and mobile services. At the same time, mobile network operators are losing billions of dollars annually in voice and SMS revenues as consumers increasingly use OTT apps for voice, video and text chat.
Some communications service providers are launching their own OTT communications services to extend service reach, restore subscriber loyalty and combat OTT providers. Many are leveraging white-label cloud-based OTT platforms to accelerate time-to-market.
Relationship to Rich Communications Services
Rich Communications Services (RCS) is a GSMA initiative that standardizes the delivery of multimedia communications––voice, video, messaging and file sharing––across diverse communications service provider networks. The GSMA promotes RCS as a way for service providers to combat OTT threats. GSMA's joyn™ branding and accreditation program is intended to foster RCS interoperability between operators. RCS has not been widely embraced by the service provider community and has not enjoyed large-scale commercial success.
Other Over-the-Top Services
Over-the-top communications services are just one class of OTT applications impacting Internet service providers and communications service providers. Other OTT services include video content services such as Netflix and YouTube, as well as network gaming services such as Xbox 360. OTT services are a major concern for Internet service providers and communications service providers. ISPs and CSPs must expand network capacity to support ever-increasing OTT traffic, but it is the OTT providers who are monetizing ISP and CSP infrastructure investments. At the same time, ISPs and CSPs risk becoming commodity bandwidth providers.