What is PaaS (Platform as a Service)?
A Communications Platform as a Service or PaaS is a cloud-based service that eliminates the cost and complexity of developing real-time communications applications. A PaaS provides cloud-based software development tools, standards-based application programming interfaces (APIs) and sample code to streamline application development. Independent software vendors (ISVs), systems integrators (SIs) and service providers can leverage a PaaS to accelerate time-to-market for communications-rich applications and services. Enterprise IT organizations can leverage a PaaS to communications-enable business processes or customer-facing applications––quickly and cost-effectively.
What is PaaS: Functions
A communications PaaS is a rich communications application development environment delivered in the form of a partitioned cloud-based platform that is remotely hosted, secured and managed by a specialized service provider. The PaaS provides all the tools and services required to develop real-time communications applications or to embed real-time communications capabilities into web-based applications, mobile apps or business processes.
A typical communications PaaS provides:
A complete development framework that supports all forms of real-time communications including voice, video, text chat, screen-sharing and presence
A comprehensive software development kit (SDK) and Java or .NET run-time libraries for building applications on a variety of mobile and desktop platforms
Standards-based REST APIs for embedding real-time communications into web-based applications
Sample code and pre-built applications to jump start development
Carrier-class availability and 7X24 operations and customer service
Extensive product documentation and support capabilities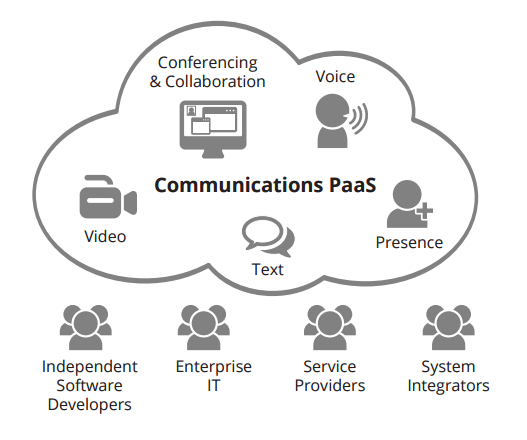 PaaS Advantages
Quite simply, a communications PaaS helps development teams save time and money. The advantages of using a communications PaaS include:
Rapid time-to-market: developers gain instant access to a complete software development environment with sample code and pre-built apps
No CAPEX: no upfront capital expenditures are required; the full development environment resides in the cloud
Elastic services: most providers offer pay-as-you-grow pricing models so development organizations can tightly align licensing fees with service usage
Future proofing and investment protection: new features and capabilities are instantiated automatically in the cloud (as are bug fixes)
Security and multi-tenancy: the platform is fully partitioned; each development organization operates in a secure, virtualized environment
Peace of mind: many PaaS providers offer highly reliable services and round-the-clock support
Improved business focus: developers can focus on core business initiatives rather than underlying IT infrastructure
Relationship to SaaS and PaaS
In cloud computing, the PaaS construct is part of a layered model for delivering applications and services.
The IaaS layer provides the underlying compute, storage and networking resources required to instantiate cloud-based applications and services. The PaaS layer provides the development environment for creating the applications and services. The SaaS layer refers to the cloud-based applications and services consumed by end-users. In the communications industry, a SaaS offering is often referred to as a Unified Communications as a Service (UCaaS) solution.