Session Border Controllers Overview
Session Border Controllers (SBCs) work behind the scenes to ensure that voice, video and data communications flow smoothly and securely between networks and the people who use them.
Microsoft Direct Routing for Enterprises and Businesses
Ribbon SBCs, certified for Direct Routing for Microsoft Teams, are flexible enough to support single-site secondary education through nationwide higher education operations with tens of thousands of users. They have a versatile applications solution module, providing connection to the Microsoft Phone System, Active Directory integration, and branch survivability. In addition to hardware-centric solutions such as the SBC 1000, 2000, and 5000, Ribbon's virtual SBC, SWe Lite, (available either cloudbased from the Azure Marketplace or running as a VNF on a corporate server) is a cost-efficient and powerful solution for securing real-time communications (RTC).
Ribbon SBCs are your line of defense against telephony related attacks such as Denial of Service and toll fraud. Key capabilities include:
Topology hiding (Back-to-back user agent)
DoS and DDoS policers
TLS/SRTP Encryption
Malformed packet protection
Download Solution Brief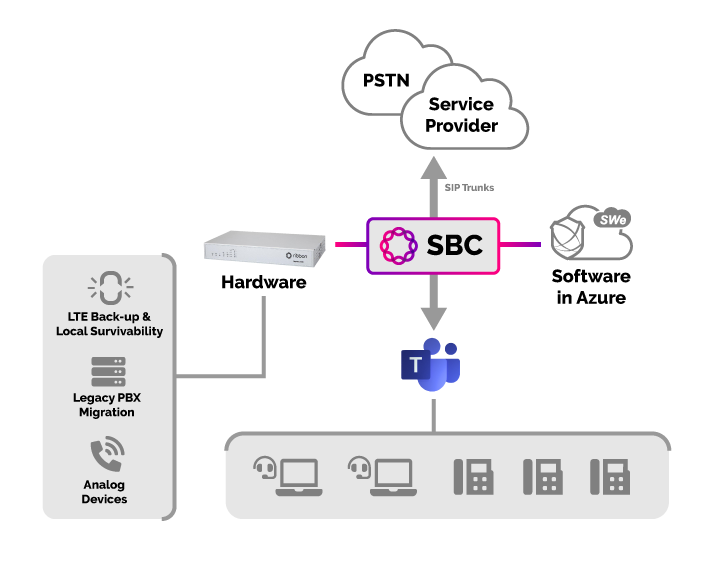 Security and Analytics for Universities, Banks, and Healthcare Businesses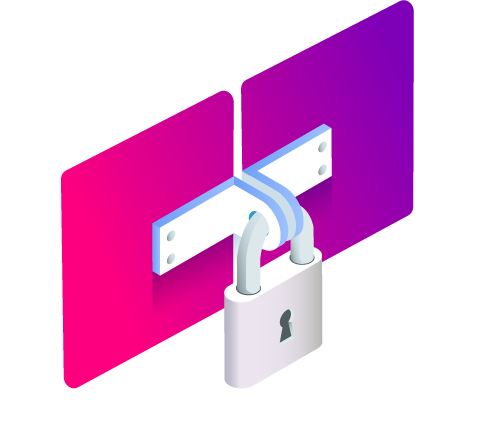 Secure Connectivity
Ribbon's delivers secure communications to campuses as well as remote users. Our solutions are uniquely qualified to transition organizations from TDM to IP while simplifying network elements, enabling new services and reducing expense from legacy voice-only networks. Ribbon SBCs protect the UC network, at wire speed throughput, from devastating DoS attacks, as-well-as maintain full session capacity while running multiple services.
Ribbon Analytics and Ribbon Protect
The Ribbon Analytics platform empowers education to effectively monitor and respond to cyberattacks, fraud, and network operational issues. It's a virtualized solution that quickly and easily integrates with your existing RTC network investments. Ribbon Protect, a component of the Ribbon Analytics platform, receives information from various network elements – such as Ribbon SBCs and other 3rd party communication network devices - and analyzes it for various RTC security breaches and service quality issues. The Ribbon Analytics portfolio allows you to view end-to-end call flows, diagnose service quality issues, as well as make automated security enforcement decisions based on quantitative RTC network information. Using Ribbon Protect, these decisions can be pushed to any "enforcer" anywhere in the network
Download Brochure
Securing SIP Trunking and Service Assurance
Ribbon's combined solution of EdgeMarc Intelligent Edge devices and the EdgeView Service Control Center enable educational institutions to secure their varied locations and manage them on an ongoing basis. EdgeMarc devices deployed at each location provide Quality of Service management, SIP security, and business continuity, as well as detailed performance data on every SIP session. EdgeView takes this data and aggregates it across the entire network, giving you a single pane of glass view on how your locations are performing.
Learn More about Securing Your SIP Trunking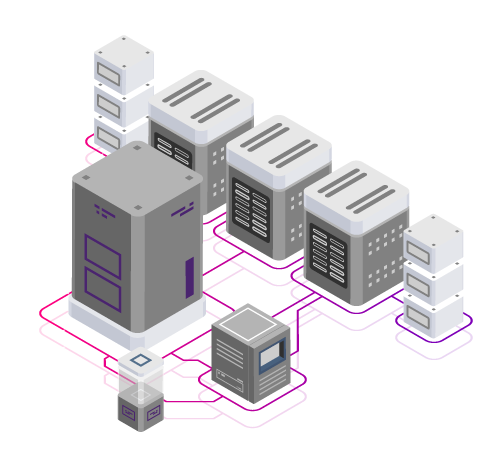 Novant Health - 57,000 Lines, Zero Downtime Enterprise Solutions
Legacy Phone System Upgrade and Replacement
Ribbon has a proven track record of supporting CS2100 customers with impactful software updates, service and support contracts and experienced professional services engagements