What Is Direct Routing for Microsoft Teams?
Direct Routing for Microsoft Teams enables Teams to become an office's phone system, replacing and/or integrating with a traditional private branch exchange (PBX) system. Direct Routing connects Microsoft Teams to a telecom provider securely so that users can make and receive external phone calls from a Teams client on a computer or mobile device. Microsoft Teams Direct Routing provides several benefits over traditional PBX systems including the ability to make and receive business calls from any location, modern security standards, simplified IT deployment and management. Teams offers traditional business phone services such as caller ID, call forwarding, voicemail, as well as the option to escalate calls into full collaboration sessions, meeting the demands of the growing hybrid workforce.
How Does Teams Direct Routing Work?
Direct Routing relies on two elements to connect Teams to a telecom provider: a Session Border Controller (SBC) and a Session Initiation Protocol (SIP) Trunk. SIP Trunks are the connection between a phone systems (in this case, Microsoft Teams Phone) to a public switched telephone network (PTSN), using Voice over Internet (VoIP) technology. Since SIP Trunks operate over a IP network, an SBC is required for security to provide voice firewall protection, DDoS attack prevention, and encryption. An SBC, via a SIP trunk, also reviews a calls signaling and media parameters before routing the call to the organization's telecom provider.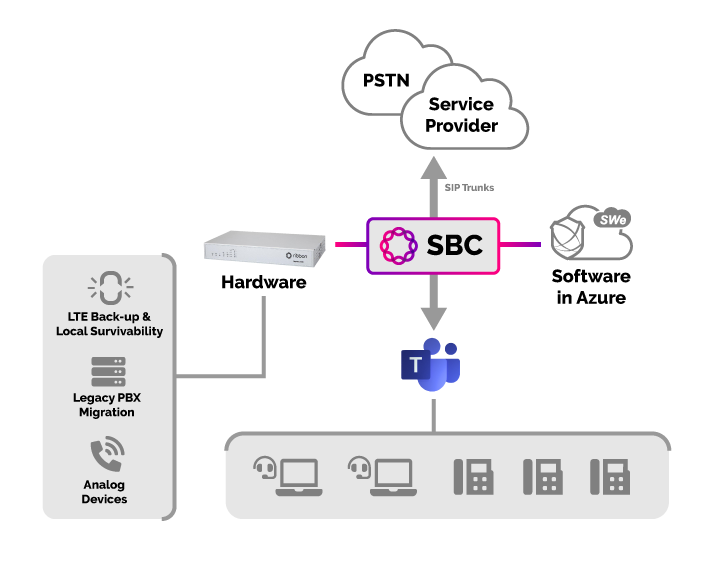 Microsoft Teams Direct Routing with Ribbon SBC Diagram
The Benefits of Teams Direct Routing
Microsoft Teams Phone Direct Routing enables businesses to seamlessly transform the way they communicate. Teams Direct Routing offers many benefits over traditional PBX systems, including:
Common communication tools across the organization.
Leverages a single telecom provider.
Fully interoperable with service provider networks.
Provides cost-competitive and flexible plans, reducing OpEx.
IT teams can leverage additional control over the network without added complexity.
Allows multiple SBC deployment choices: cloud, software or hardware.
How to Migrate to Teams Direct Routing?
With the rise in hybrid and remote work, Microsoft Teams Phone will continue to be essential in improving unified communication and streamlining collaboration in an interface team members are familiar with using. Behind the scenes, the migration to Microsoft Teams Phone from an existing PBX system requires careful planning with a few steps to consider:
Implement a small pilot program with team members to troubleshoot unexpected issues early
Get a Teams Phone License and choose a telecom provider
Configure your SBC and SIP trunk to properly route call between Microsoft Teams and your telecom provider
Plan to port existing phone numbers if you are changing telecom providers
Consider the need for a transtion period to migrate off of an old PBX
Develop a training plan for the new Teams Phone system