Benefits of Deploying on a Public Cloud
Enterprises are already deploying SBCs in their own private clouds and that makes sense based on specific requirements for ownership control and oftten specific privacy concerns. However, over the past 18 months the major hyperscalers (Amazon Web Services (AWS), Google Cloud Platform (GCP) or Microsoft Azure) have all brought out offers that are aimed at enterprises deploying communication services on a public cloud.
By moving from a private to public cloud an enterprise has a lot to gain. They can achieve much faster time-to-market than having to procure, install, and implement the required compute, networking and storage infrastructure on their own private cloud. They can reduce operating costs by eliminating the need for ongoing maintenance of the cloud infrastructure for an SBC because the public cloud provider handles this now. And they will gain flexibility and cost control when scaling SBC capacity, because public cloud resources are available on a subscription basis.
SBC SWe Deployment Flexibility Provides Choices
Ribbon's cloud-native SBC SWe has you covered, whether your preference is a virtual environment in a data center, in your own private cloud or on a public cloud.
The SBC SWe can be instantiated in multiple virtual or cloud environments including:
| Domain | Hypervisors | Network Functions Virtualization |
| --- | --- | --- |
| Private DC | VMWare, KVM | |
| Private Cloud | VMWare, KVM | Yes (OpenStack) |
| Public Cloud | VMWare, KVM | Yes (AWS, Azure, GCP) |
The SBC SWe is available through a Ribbon channel partner, or from the AWS Marketplace
Download our SBC SWe Datasheet
View the SBC SWe datasheet for a detailed list of features and capabilities
Managing SBC SWe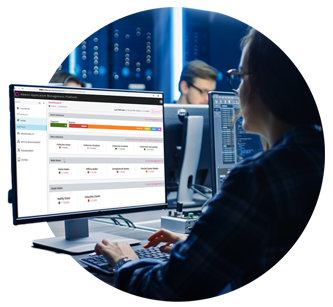 Ribbon's SBC SWe is managed from a centralized Ribbon Application Management Platform (RAMP) offering a complete Fault, Configuration, Accounting, Performance, and Security solution. Delivering intuitive, reliable, scalable and automated management, an enterprise can quickly configure SBCs, identify and remediate issues, deliver improved customer experience, and do so at reduced operational costs.
Ribbon Application Management Platform manages SBC SWe deployed across multiple domains - data centers as well as private or public cloud environments. The platform itself is designed using cloud-native principles and can also be deployed in multiple data centers and public or private cloud environments in standalone or high availability configurations, including options for geographic redundancy.
Download our RAMP Datasheet
Ribbon SBC SWe Edge Demo
Configure the Ribbon SBC SWe Edge on the Microsoft Azure Cloud
Organizations can immediately move some or all of their business phone calls to Teams or slowly migrate off of a legacy PBX, depending on their needs. And since Teams clients work on a PC/Mac or smartphone, users can make and receive calls from almost anywhere, on any device, staying connected and productive.

The key is Ribbon's Session Border Controller, Software Edition (SBC – SWe Edge). It lives in the Azure Cloud and provides a secure bridge between your enterprise network and a Communication Service Provider (CSP). There is no hardware to deploy or manage, as everything is in the Azure Cloud. The solution is operational in minutes and can scale up or down as needed. Ribbon even offers a 30-day trial license so your organization can try it out.