Download our SBC SWe Lite Datasheet
View the SBC SWe Lite datasheets for a detailed list of services & capacities
Delivering Microsoft Teams Survivability
The SBC SWe Lite supports Microsoft Survivable Branch Appliance (SBA). With SBA, Microsoft Teams users are able to make and receive calls to/from the public telephone network if Microsoft 365 becomes unavailable. Microsoft's SBA services provide an additional level of resiliency and provides another way for service providers to add value to a managed Microsoft Teams offer.
Microsoft SBA services are tightly integrated into the SBC SWe Lite's configuration wizard, making set-up and administration as simple as point and click. Ribbon eliminates any SBA related command line administration or stand-alone security certificate management.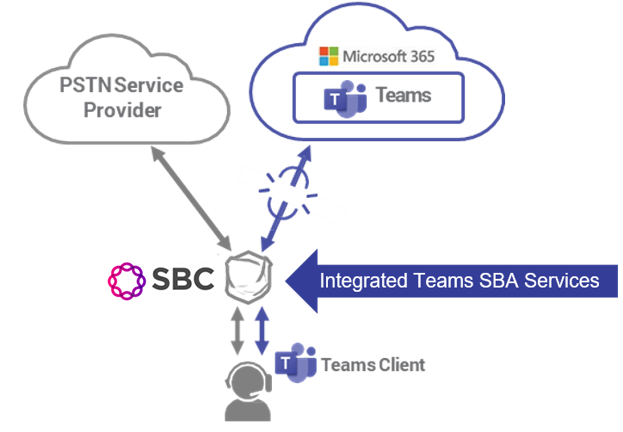 Certified for Microsoft Teams Direct Routing
Yes
Automated Deployment
Yes - Simple Wizard
Signaling Only Session Capacity
10-1000
(Dependent on VM type)
Session Capacity with Media Transcoding (G.711 – G.729)
10-500
(Dependent on VM type)
Enabling Microsoft Team Direct Routing
SBC SWe Lite Management
The SBC SWe Lite can be managed by either Ribbon's EdgeView Service Control Center (SCC) or Ribbon's Insight Element Management System (EMS).
The EdgeView Service Control Center (SCC) is the centralized interface to manage your Edge SBCs. It's graphical, easy to use interface enables centralized monitoring, troubleshooting, and resolution of issues with your Hosted UC and SIP Trunking network. EdgeView SCC assists in readily solving customer issues leading to lower costs and higher customer satisfaction.
Insight Element Management System provides a complete FCAPS (Fault, Configuration, Accounting, Performance, and Security) solution with a robust portfolio of management and provisioning tools for the SBC SWe Lite. Insight EMS offers a mature, feature-rich management system providing a simple-to-use, graphical user interface and accelerated provisioning and management processes.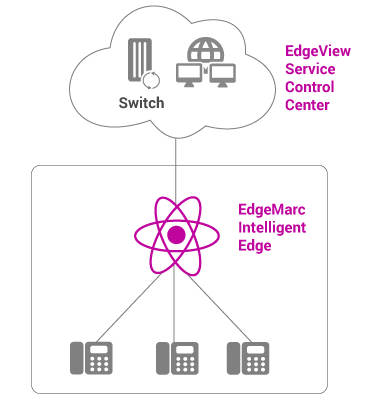 Ribbon's Appliance-Based SBC Alternative on the Enterprise Premises
If required, to meet specific enterprise requirements, Ribbon also offers two appliance-based edge SBCs that run the same software as the SBC SWe Lite.
Ribbon's SBC 1000 and SBC 2000 Session Border Controllers are alternative options to deliver security and interoperability when accessing cloud-based services. The SBC 1000 and SBC 2000 include multiple options to integrate traditional telecom devices via analog, BRI and T1/E1 ports. Both SBCs also include capabilities to maintain communications access if a WAN link is lost or a cloud service is unavailable.
Both SBCs are also certified for Microsoft Teams, ZoomTM, and BroadSoftTM. Like the SBC SWe Lite, a built-in deployment wizard is pre-populated with popular PBXs, cloud UC services and service provider configurations so deployment can be as simple as point and click.