Policy and Routing Server Cloud-Native Edition (PSX CNe)
Ribbon's PSX CNe embodies Ribbon's innovation, knowledge and expertise in cloud-native design, and experience in deploying the gold standard for policy and routing in the most demanding environments.
Designed using microservices, with automated Kubernetes lifecycle management, PSX CNe optimizes cloud resource allocation, enables dynamic scaling, and ensures resiliency and redundancy.
Service Providers will be able to leverage cloud-native benefits and still be able to meet or exceed the demanding requirements needed for policy and routing decisions for VoIP services such as SIP trunking, Network-Network Interconnect, Unified Communications, Contact Centers, or just to migrate from TDM to IP peering.
Relationship With Cloud-Native SBC
Given the disaggregated, containerized, microservices nature of a cloud-native architecture, Ribbon's cloud-native SBC (SBC CNe) is dependent upon PSX CNe for the full range of policy and routing features and functionality. This differs from Ribbon's virtual SBC (SBC SWe) which allowed for an embedded policy and routing function, but with significant limitations.
AvidThink Telco Cloud and Edge Report 2023
Next-generation foundations for communications workloads
Managing PSX CNe With RAMP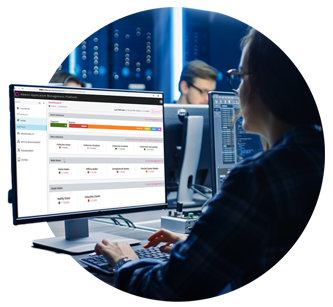 Ribbon's PSX CNe requires the deployment of our centralized Ribbon Application Management Platform (RAMP) that offers, offering a complete set of Fault, Configuration, Accounting, Performance, and Security features. RAMP provides licensing management required for any PSX CNe feature. With RAMP, a customer gets intuitive, reliable, scalable, and automated management, so they can quickly and easily manage deployments, provision configurations, identify and remediate issues, deliver improved customer experience, and do so at reduced operational costs.
RAMP itself is designed using cloud-native principles and can be deployed in the same data center and public or private cloud environments as the PSX CNe. RAMP is deployable in standalone or high-availability configurations, including options for geographic redundancy.
Download our RAMP Datasheet
Our Carrier Heritage Matters
Ribbon's PSX runs in the largest telecom networks in the world. That means there's a good chance that your Ribbon PSX could be connecting to a Ribbon SBC or for that matter any other 3rd party SBC or gateway. It also means that every Ribbon PSX that has ever been deployed is designed from day one for high-volume, high value deployments.
Ribbon's PSX is the gold standard for policy and routing decisions and ensures that VoIP traffic is routed with cost AND quality as key factors.  Ribbon understands what "five-nines availability means and how to ensure it, so whether your PSX is deployed in a private datacenter, a private cloud, or even in a public cloud, you  will know it is built for reliability.
We understand that no communications are of higher value than your own.
The Ribbon Difference
No other PSX provider can match Ribbon's complete solution for communications security, solution integration, and value. More importantly, those capabilities are backed by Ribbon people. Our solutions are built by Ribbon R&D teams, sold by Ribbon sales staff and authorized Partners, and supported by Ribbon services teams. We are the leading the market for:
Cloud Native Technology- Ribbon's PSX leverages microservices deployed in containers with lifecycle management using Kubernetes, plus Ribbon automation and seamless integration into a customer's observability ecosystem.
Scale– Based on traffic demands, PSX elastically scales up without a finite limit and scales back down to optimize cloud resource utilization
Open Architecture– Unlike some of our competition, the PSX leverages common cloud native application. It's built to support open standards and integrated with a broader set of of Ribbon solutions for threat mitigation and nuisance call mitigation.
Proven– Billions of minutes of use run on each of our solution elements. It's no accident that many of the world's largest telecom providers and the fastest-growing cloud UC and contact center providers depended on Ribbon PSX.
Find out for yourself, contact us today.