Circuit Emulation Services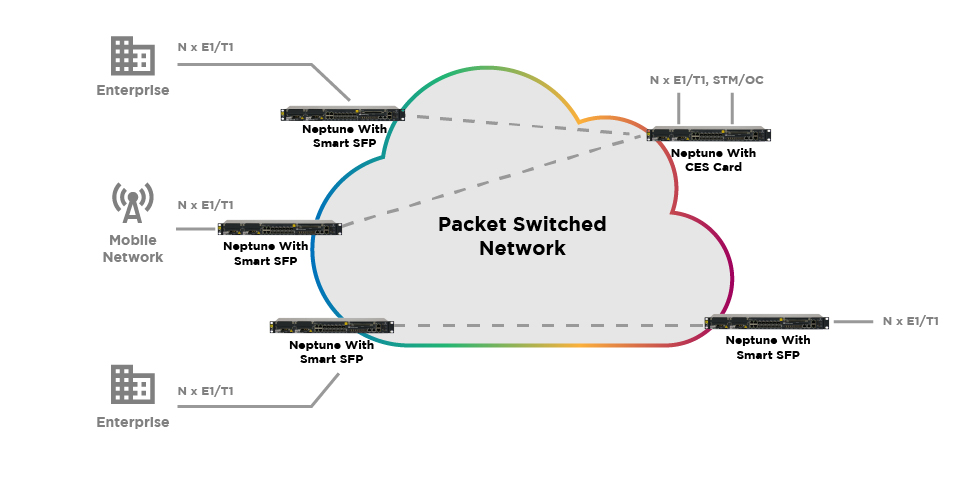 TDM Aggregation
In this application the TDM aggregation network and the Packet Switched Network (PSN) are independent from each other. The TDM aggregation network is used to convert the TDM traffic into packet. This is then aggregated and handed off to the Packet Switched Network. The TDM aggregation network uses CES technology which can be provided by pluggables or CES service cards inserted into Neptune multi-access edge and aggregation platforms, depending on rates and density required. The PSN is the network operators existing network, and Ribbon has proven interworking with all the major IP network vendors.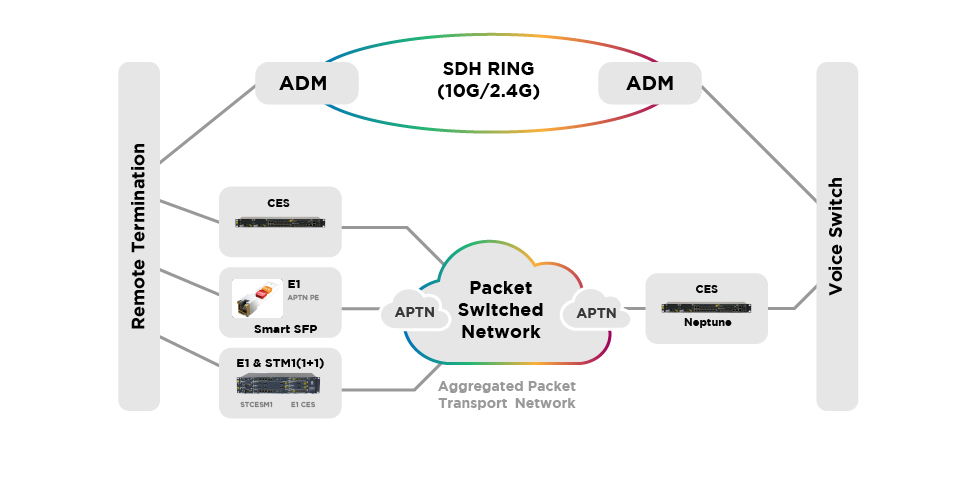 The Time is Coming!
TDM and SONET networks are at the end of life.  The technicians are retiring, the equipment is aging, and the spares are sparse. Will your network be ready?
Voice Trunk Migration
Voice Trunk migration requires the ability to:
Interconnect voice switches
Eliminate the TDM/SDH/SONET network
Leverage Ethernet and MPLS efficiency
Provide equivalent or better availability, resilience, and OAM than the legacy SDH/SONET network
Ribbon's voice trunk migration solution uses standards-based circuit emulation (CES) approaches (SAToP and CESoPSN) to enable it to support all of the functionality required for voice trunks:
E1/DS1/DS3 hand-off
STM-N/OC-N hand-off to the voice gateway
50ms protection switching
10ms failure detection
Voice-grade Quality of Service (QoS)
Where required, deterministic packet transport protocols such as Segment Routing (SR), MPLS-TP, or RSVP-TE can be used. This new network is fully interoperable with existing IP routing and DWDM networks.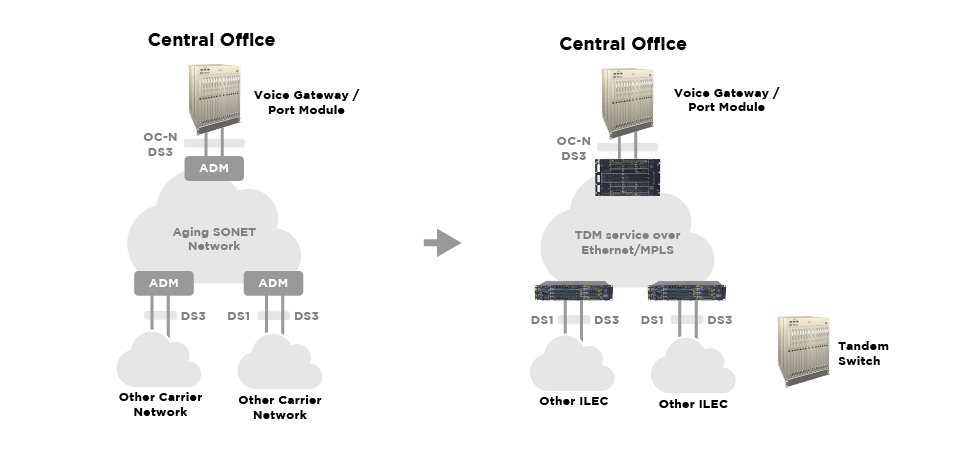 Legacy Service Migration
Historically, many enterprises leased SDH/SONET connectivity from service providers for their TDM traffic. However, IP/Ethernet is now ubiquitous for services and applications, with MPLS as the WAN transport technology. With the dramatic cost, footprint and power reduction offered by MPLS over SDH/SONET, if enterprises migrate their TDM services to run on these MPLS networks they can dramatically reduce their leased connectivity costs.
Circuit emulation provides the mechanism to achieve this, with direct E1/DS1, DS3, and STM-1/4, OC-3/12 interfaces allowing existing services to be connected directly to the packet network. The packet network is able to provide a variety of resilience options, allowing it to achieve the same level or better service resilience than was provided by the legacy SDH/SONET network:
G.8032v1: Recommended for access protection
MC-LAG (Multi-Chassis Link Aggregation Group): Allows the traffic to be shared over multiple chassis, as well as providing redundancy in the event one of the chassis fail
LDP (Label Distribution Protocol): Used to provide end to end protection
Moving to a packet network has the added advantage of simplifying enterprise access. Running the SDH/SONET services on the packet network gives operators the opportunity to consolidate all enterprise services onto a single CPE, simplifying the expenses and complexity associated with running two networks. In addition, transitioning services from SDH/SONET to IP becomes far simpler for the Enterprise