Watch our Webinar on Teams Direct Routing for CSPs
With Industry Analyst Diane Myers CSPs
Microsoft Operator Connect Webinar
May 5th 2022 11am CEST (EMEA) & 11am EDT (Americas)
Register to Watch >
Core SBCs for Operator Connect
Ribbon's core SBCs, including the Software Edition (SBC SWe), SBC 5400 and SBC 7000, are designed for the heart of service provider networks. They are architected for high availability, scalability, and are seamlessly integrated with Ribbon's centralized routing and policy engine, PSX, to streamline network-wide routing and session management. Ribbon's core SBCs are also integrated with Ribbon Analytics and Ribbon's Identity Assurance solutions so service providers can proactively manage the security and integrity of their overall network and individual calls.
Ribbon's SBC SWe, SBC 5400 and SBC 7000 are all Microsoft certified for both Operator Connect and Direct Routing. They're able to support tens of thousands of concurrent sessions per instance, making them an extremely cost-effective way to deliver SIP trunks to Microsoft Teams deployments.
Many Teams customers are embracing Operator Connect, foregoing traditional SIP trunking deployment models that delivered SIP trunks to a premises. Instead, they are opting for the cloud-to-cloud connectivity that's enabled by Operator Connect, eliminating any reliability issues tied to the last mile. In time, service providers will deploy hundreds of thousands of sessions between their own networks and Azure. That will make the resiliency and scale of Operator Connect connections critical. The carrier scale, multi-tenant capabilities, and configuration flexibility of Ribbon's SBCs make them the ideal choice for this high-volume deployment model.
Virtualized Software for the Core
Enable Microsoft Direct Routing from your Network or the Public Cloud
Ribbon's SBC Software Edition (SWe) uses identical software to the award-winning SBC 5000 series and SBC 7000, minus the hardware. Ribbon's SBC SWe delivers the same carrier-class redundancy to ensure service continuity; is deployable on multiple cloud environments and provides industry-leading media transcoding using GPUs to scale for high-density transcoding, including Microsoft's SILK codec.
The cloud native SBC SWe, assures service providers that they will be able to deliver secure real-time communications on almost any private or public cloud environment without compromising scale and performance. It is also available on AWS Marketplace and as an AWS Quick Start.
SBC SWe - Diverse Software Platform Support:
VMware
KVM
Amazon Web Services (AWS)
Google Cloud Platform (GCP)
OpenStack
Microsoft Azure
Microsoft Operator Connect Integration
Microsoft Operator Connect is a next-generation cloud-to-cloud interconnect solution. Service Providers can combine their SIP Trunking services with Microsoft 365 workflow APIs to make it easy for enterprises to acquire and deploy PSTN calling services for Teams. Enterprises can configure users for Teams calling and at the same time acquire and assign DIDs/DDIs from their preferred Service Provider. Ribbon SBCs are fully compatible with Operator Connect; Ribbon is working with Microsoft and many of the Service Providers rolling out Operator Connect Services.
Service Providers connect to the Microsoft 365 cloud using their peering SBCs
Operator Connect provides integration tools (APIs) so carriers can leverage the Microsoft 365 portal to engage with new customers and deploy SIP trunks (DIDs/DDIs)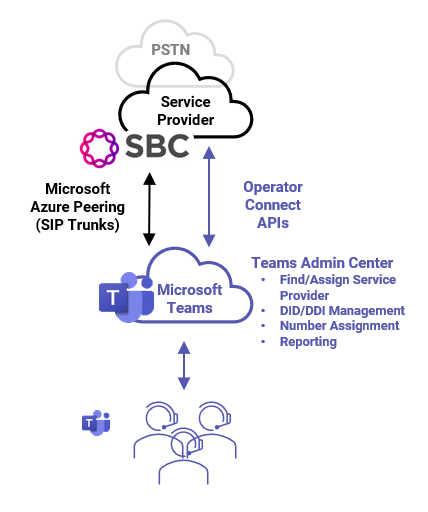 Intelligent Edge Hardware – Monetize the Last Mile
Ribbon's Intelligent Edge™ hardware offers an intelligent demarcation point on the customer premises along with best-in-class eSBC services and multiple options for FXO and FXS (analog and digital) connectivity to simplify migrations to Teams.
Even with the very best core network, there are still advantages to an intelligent device deployed at the edge of the enterprise network. Service providers can leverage the Ribbon Application Management Platform (RAMP) to manage thousands of Ribbon appliances deployed at the enterprise edge. Ribbon's eSBCs cost-effectively manage the last mile, reduce tech dispatches and shorten CSR troubleshooting time. Providers can further accelerate EdgeMarc appliance deployments using Zero Touch Provisioning.
The Ribbon SBC SWE Edge, SBC 1000, and SBC 2000 give service providers a compelling resiliency offer by supporting Microsoft's Survivable Branch Appliance (SBA). The SBA capability gives users a backup plan for outbound calling if the Azure Cloud becomes unreachable. The EdgeMarc 6000 includes LTE back-up in case of a wired WAN failure.
Virtualized Software - Deploy Anywhere
Enable Direct Routing for Microsoft Teams from any virtualized environment, including Azure or Amazon Web Services (AWS)
Ribbon's Session Border Controller, Software Edition Edge (SBC SWe Edge), deploys in the Azure or AWS cloud as well as on Hyper-V, VMWare, and KVM. Regardless of the deployment choice, SBC SWe Edge provides a secure bridge between a provider's SIP trunks and an enterprise's Teams deployment. It's an ideal solution for organizations that want to bring their SIP trunks directly into a public or private cloud. Service providers can easily deliver a managed SBC service (including centralized management via the Ribbon Application Management Platform) by hosting SBC SWe Edge in their own network or the public cloud.
There is no dedicated SBC hardware to deploy or manage, as everything is in the public or private cloud. The solution is operational in minutes and can scale up or down as needed. Ribbon's SBC software is designed for compute efficiency. In fact, a small business can be supported with a single Standard_B1ms virtual machine instance on Azure or a Burstable t3.small virtual machine instance on AWS.
Ribbon Advantages Include:
Microsoft-certified including optional services such as Local Media Optimization and e911
Robust security to keep bad actors out of the network and prevent service disruptions
Full media services including SILK and OPUS transcoding
Easy Configuration Wizard speeds deployments and reduces configuration errors, Watch the Video
Make the Truck Roll Obsolete – Save Money and Time
The EdgeView Service Control Center (SCC) is a centralized interface to manage your edge SBC deployments. EdgeView helps service providers centrally monitor, troubleshoot, and resolve issues with customers' Direct Routing deployments (as well as other hosted UC and SIP Trunking environments). EdgeView accelerates solving customer issues remotely, reducing the need to dispatch technicians, lowering costs, and increasing customer satisfaction.
EdgeView SCC works in tandem with EdgeMarc, SBC 1000, and SBC 2000 appliances as well as SBC SWe Lite instances (both virtualized software and public cloud) to provide a complete view of your network. Service providers get greater insights into LAN-side issues and can better access endpoint diagnostics. Using Auto Provisioning, EdgeView can expedite EdgeMarc appliance installations and assure consistent configurations.
EdgeView Service Control Center Features
Proactive Monitoring: Real-time Visibility, Event-Based Triggers, and Notifications
Remote Troubleshooting: Issue Recognition and Remediation, Remote Diagnostic Tools
Analytics: Service Quality, SLA, Configurable Data Retention
Reporting: Analytics Data, KPIs, Automated Reports, Data Archive
Learn How Bell Canada is Using EdgeView to Reduce Costs and Improve the Customer Experience
Ribbon Intelligent Edge Testimonial - Bell Canada
Bell turned to Ribbon's EdgeMarc and EdgeView solutions to provide a cloud to edge view of their customers' experience. EdgeMarc devices are deployed at the customer premises and managed via the EdgeView Service Control Center.
Tools to Help Enterprises Migrate to Teams
Service providers are already fielding questions from organizations looking for options to move all or some of their employees off a traditional PBX to Teams. Microsoft Teams doesn't inherently offer any specific tools for migrating 3rd party PBXs to Teams. However, Ribbon SBCs can make migration easier so you can retain existing customers. Not only does this reduce churn, it reduces comparative shopping that could drive down your SIP trunk prices and margins.
Most Ribbon SBCs offer SIP Forking to provide simultaneous ringing of the legacy PBX and Teams. In addition, our SBC's dial plans can redirect calls, so users don't need to be routing experts to connect with co-workers on another system.
Ribbon's SBC 1000 and SBC 2000 as well as the EdgeMarc 2900 series, 4800 series, 6000 series and 7000 series provide FXO and FXS ports (both analog and digital) to simplify connectivity to existing devices. These may include legacy PBXs, contact centers, elevator phones, emergency calling boxes, door phones, common analog phones and more.
In addition, Ribbon Connect for Microsoft Direct Routing offers another level of integration by registering as a soft client off the legacy PBX. This station-side migration option creates tighter integration between the legacy environment and the newer Teams environment. It also reuses existing trunking so organizations don't need to shop for PSTN services. It can also be activated on a per seat basis so organizations can choose to offer Teams calling to a select group of users.
Microsoft Teams Direct Routing Dummies Guide
Use Teams as your office phone system | Learn about Microsoft Direct Routing | Pick the right Session Border Controller (SBC)
Microsoft Survivable Branch Appliance Support
Enable Teams users to make and receive calls to/from the public telephone network if Microsoft 365 becomes unreachable. Microsoft's Survivable Branch Appliance (SBA) capabilities are available for the SBC 1000 and SBC 2000 (Server Module required) as well as offered as fully virtualized software in concert with the SBC SWe Lite. Ribbon enterprise SBCs already provide support for resilient WAN connections, adding Microsoft's SBA services provide the next level of resiliency by assuring that users can still make and receive calls, in the event of a WAN or cloud outage. It is an ideal way for service providers to add value to a managed Microsoft Teams offer. Microsoft SBA services are tightly integrated into the enterprise SBC's Easy Configuration Wizard, making set-up and administration as simple as point and click. Ribbon eliminates any SBA related command line administration or stand-alone security certificate management.
The SBC 1000 and 2000 also support connectivity to traditional analog and digital circuits (POTS, BRI, T1/E1 circuits) for an additional level of redundancy, beyond SIP trunk connectivity. Learn more by downloading the SBA datasheet.
Survivable Branch Appliance (SBA) for Microsoft Teams
Survivable Branch Appliance (SBA) for Microsoft Teams
Find out the details how our SBCs support Microsoft Teams Survivable Branch Appliance in your network.
Use Ribbon Connect to Jump Start Teams Direct Routing
Ribbon understands that service providers may recognize the need to get to market with a Direct Routing offer but are constrained by the investments required. Ribbon Connect for Microsoft Teams Direct Routing provides a cloud-based SBC as a service as well as turn-key web portal for administration. Providers can extend the value of their existing SIP trunks to deliver a fully certified Microsoft Direct Routing solution immediately, without CAPEX investments.
Ribbon Connect for Microsoft Teams Direct Routing
Ribbon Connect for Microsoft Teams Direct Routing makes it easy to take the next step, adding dial tone to Teams to make and receive business phone calls, turning Teams into the office phone system.
Ribbon Connect for Microsoft Teams Direct Routing is delivered on a per-user (per seat) basis. If an organization has 20 users that need Teams calling services, a provider sells that organization 20 seats of Ribbon Connect, from the Ribbon cloud. Providers can co-brand or completely rebrand the offer. Ribbon Connect can easily accommodate hundreds or thousands of seats. The solution scales up to match increasing use and scales down as business needs or seasonality dictates. There are no contract minimums or long-term contacts lock-ins.
CSPs that are concerned that their staff can't get up to speed on Microsoft Direct Routing can take solace in knowing that Ribbon Connect is administer via intuitive web-based menus, just add the users' credentials. Ribbon Connect can automatically make configuration updates in Teams, set-up Session Border Controller services and even integrate with an existing IP-PBX or Cloud UC service.
Download the Ribbon Connect for Microsoft Teams Direct Routing Solution Brief
Teams is Calling You
93 of the Fortune 100 are using Microsoft Teams*
183,000 educational institutes are using Microsoft Teams*
Largest % of Teams users are 35 – 44 years old*
Fastest growing business app ever in Microsoft's history*
Available in 53 languages*
*Source Microsoft 2020
Don't miss the opportunity to deliver SIP trunks to organizations as they adopt Microsoft Phone System and Direct Routing for Teams calling. If you don't provide a solution, your competition will.
Stone Brewing Deploys Ribbon SBC
Stone Brewing Deploys Ribbon SBC
When COVID-19 shut down of their offices, Stone Brewing rapidly rolled out Microsoft Teams Direct Routing using a Ribbon SBC, deployed in Azure. The solution enabled employees to take and make business calls from home, assuring they could stay connected to their global base of customers.