Edge 8000 Comparison
| | | |
| --- | --- | --- |
| Capability | Edge 8100 | Edge 8300 |
| High Performance Routing (1, 5 or 10 Gbps throughput) | ● | ● |
| Session Border Control Software (incrementally licensed for up to 900 sessions) | ● | ● |
| SBC certification for Teams Phone, Zoom Phone, Webex, & Google Voice | ● | ● |
| VNF Environment for 3rd Party Applications | ● | ● |
| SFP+ Ports 10Gb (requires SFP+ transceivers) | 2 | 2 |
| Ethernet Ports (10/100/1000) | 8 | 8 |
| AC & DC Power Options | Single or Dual AC or Dual DC | Single or Dual AC or Dual DC |
| T1/E1 Ports | 0 | 4 |
| FXS Port Options (analog phones, fax, etc.) | 0 | 22/24 |
| FXO Ports Options (analog lines for emergency calling, etc.) | 0 | 2/0 |
| 1U Form Factor | ● | ● |
Up to 10 Gbps Router
The Edge 8100 and Edge 8300 provide a proven routing platform that delivers scalable, cost-effective IP routing, IPsec VPNs and carrier-grade NAT solutions. The platform's modern architecture is highly scalable with resources being purposely divided up into a control plane and a data plane. The control plane runs independently of the data plane component and the routing software has native multi-queue support to distribute the load across multiple CPU cores.
Key services include:
Border Router: Multi-homing with BGP - enabling multiple links to a single service provider or resilient connections to multiple service providers for redundancy, reliability and path diversity.
VPN Concentrator and Site-to-Site VPN: Secure point-to point connections between multiple sites, data centers, and public/private clouds.
Carrier-Grade NAT (CGNAT), also known as Large Scale NAT (LSN), shares an outside address among multiple inside local (private) IP addresses for IPv4 preservation and IPv6 migration projects.
Session Border Controller Services
The Edge 8000 includes software space (VNF) to deploy Ribbon's best-in-class SBC SWe Edge, providing best-in-class communications security. The Edge 8000 deployed with SBC SWe Edge software delivers:
Voice security (topology hiding, encryption, protection against Denial-of-Service attacks, and more).
Interoperability with leading PBXs, cloud UC services, cloud contact center services, SIP endpoints, and SIP Trunking providers.
Certification with Microsoft Teams, Zoom Phone, Webex, Google Voice, and many other platforms.
Advanced call routing features such as Active Directory/LDAP server routing integration and onboard call forking.
Powerful interoperability services including media transcoding and SIP header manipulation.
The SBC supports up to 900 concurrent calls (SIP sessions), enough for tens of thousands of daily users. SBC services are incrementally licensed, making them cost effective for very small deployments with seamless scalability to larger environments.
The Edge 8000 includes an intuitive user interface for the SBC SWe Edge, including ready-made templates for popular platforms and telecom providers..
Analog & Digital Gateway
PRI – T1/E1
Every Edge 8300 comes equipped with 4 PRI ports for T1/E1 connectivity. These ports offer a total of 92 (T1) or 120 (E1) bearer channels. These ports can be used to interconnect with a telecom provider via T1/E1 or as gateway ports to integrate a legacy PBX or contact center that does not support SIP Trunks
Analog Lines (FXO)
The Edge 8300 can be purchased with 2 FXO ports (and 22 FXS ports) to provide direct access to traditional analog lines. This can be used as a back-up if the IP connection is disrupted. Additionally, the FXO ports can also be used to interconnect legacy devices like overhead paging
Analog Stations (FXS)
The Edge 8300 can be purchased with 24 FXS ports or a configuration of 22 FXS and 2 FXO ports to provide traditional analog stations connectivity for analog phones, fax machines, elevator phones, door phones, etc. This enables organizations to retain existing investments in analog devices as maintain existing business processes.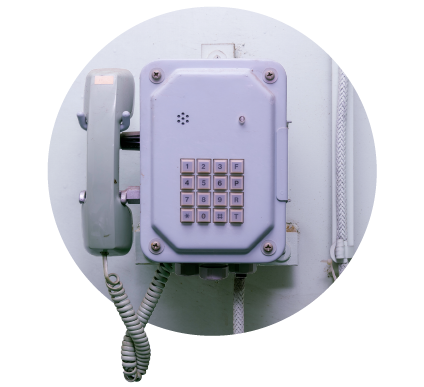 Edge 8000 Use Cases
Multi-tenant Bandwidth Aggregation

High Performance SBC

Branch Office Deployment with Legacy Telecom Services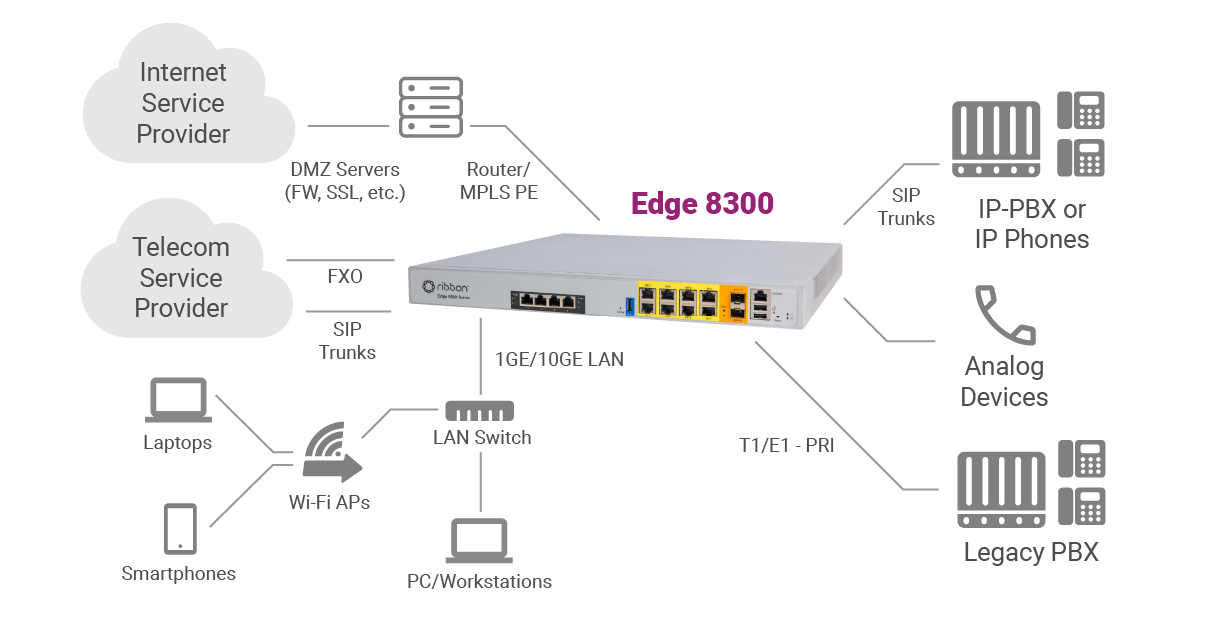 Customization – uCPE
The Edge 8000 is ready to meet unique industry or deployment needs. It includes VNF (Virtual Network Function) support to deliver uCPE-based services (centrally managed and strategically located at the edge of a customer's network) to run additional services. Service providers or enterprises can enhance the platform to meet an industry specific or market specific need.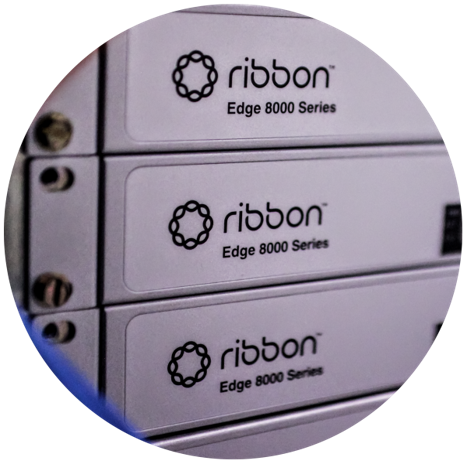 Proven Interoperability
Ribbon can connect different brands and generations of technology to simplifying Unified Communications and Contact Center migrations
Hybrid work has made upgrading communications solutions a technology imperative for CIOs and IT Managers. However, the path to get there, especially as services move to the cloud, is not always a straight one. Legacy hardware, unique uses cases, sites-specific issues, and budget constraints can make it challenging to migrate an entire organization's communications to a monolithic environment.  Additionally, some managers may also be concerned about a monolithic design that leaves an organization beholden to a single vendor for their communications technology.
Ribbon SBCs uses industry standard SIP that's platform agnostic. Ribbon's Edge 8000 can connect multiple brands of legacy equipment to multiple cloud solutions via multiple telecom providers.  Ribbon has certified, tested or had real-world experience connecting hundreds of services, providers and devices. Visit our SBC SWe Edge Interoperability Guides to learn more.
Managing Ribbon SBCs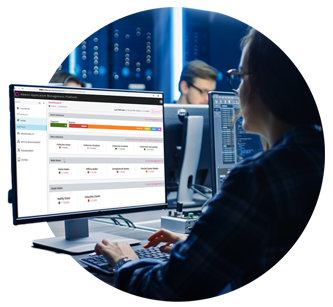 Ribbon's SBCs are managed from a centralized Ribbon Application Management Platform (RAMP) offering a complete Fault, Configuration, Accounting, Performance, and Security solution. Delivering intuitive, reliable, scalable, and automated management, an enterprise can quickly configure multiple Ribbon SBCs, identify and remediate issues, deliver improved customer experience, and reduce operational costs.
Ribbon Application Management Platform manages SBC appliances, as well as software-based SBCS, deployed locally, in a private cloud, or public cloud. The platform itself is designed using cloud native principles and can also be deployed in multiple data centers and public or private cloud environments in standalone or high availability configurations, including options for geographic redundancy.
Download our RAMP Datasheet
The Ribbon Difference
The Ribbon Difference
The Edge 8000 portfolio reflects a heritage of innovation. Ribbon has decades of experience building hundreds of thousands of edge devices that deliver superior solution integration and value. More importantly, those capabilities are backed by Ribbon people. Our solutions are built by Ribbon R&D teams, sold by Ribbon sales staff and authorized Partners and supported by Ribbon services teams. Ribbon Edge 8000 solutions offer:
Open Architecture – Unlike some of our competition, the Edge 8000 is built to support open routing standards, enable both legacy communications devices and cloud communications services, as well as integrated with Ribbon's complete portfolio of solutions for communications security.
Scale–The Edge 8000 portfolio offers tremendous value with 10Gb routing throughput that's feature rich and cost-effective vs competition.
Proven Reliability– Billions of minutes of use underpin each of our solution elements. It's no accident that many of the world's largest telecom providers and the fastest growing enterprises depended on Ribbon solutions.
Find out for yourself, contact us today.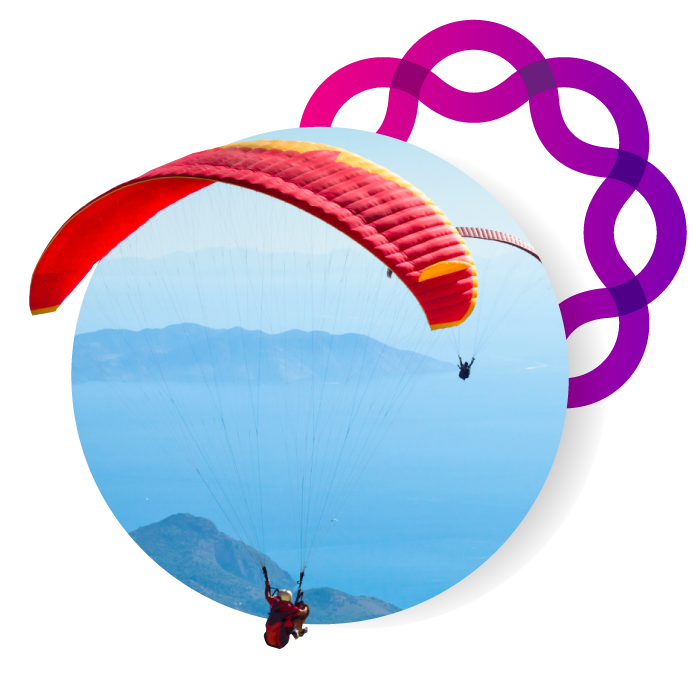 The Benefit of Our Experience
Ribbon Profession Services Staff Are Ready To Deliver A Complete Solution
With decades of experience deploying solutions in many of the worlds most demanding enterprise environments, Ribbon's people are ready to help. They have worked with nearly all of the major cloud collaboration and contact center vendors. Our staff have helped over a thousand global telecom providers deploy their networks using Ribbon solutions. Whether your organization delivers financial services, educates students, manufactures products or delivers people and cargo, Ribbon's people have the experience to make your deployment more secure, more efficient and more engaging for your customers.