Simplify PBX Migration To the Cloud
The PSX SWe performs as a centralized routing and policy engine in a multi-vendor enterprise environment with Microsoft Active Directory (AD) lookups being used for policy and routing decisions. This reduces the administrative overhead of provisioning and managing user data in two places and caching of the relieves the MSFT AD data in PSX SWe reduces relieves the AD server from high volume traffic.
For a call, PSX SWe will translate the dialed number with the user's home, mobile, or office phone numbers for completing the calls and queries the display name based on the Active Directory.
Usage Examples:
Call forking of inbound calls to both legacy PBX and MS Teams based on AD attributes
Forwarding calls to other numbers of the user based on policy
Populating caller display name
Route call to MSFT Teams if line is migrated and no longer has PBX appearance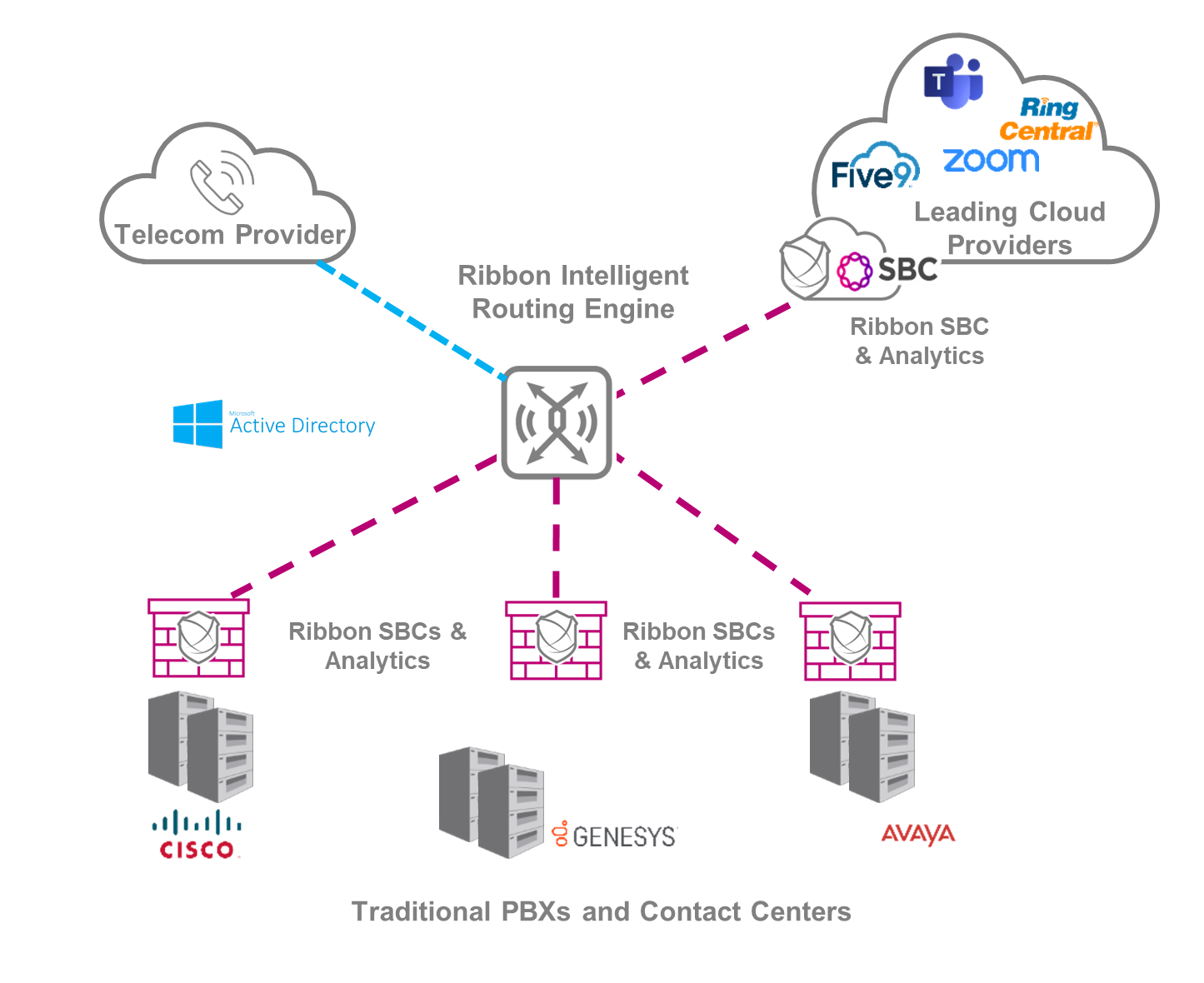 PSX SWe provides centralized routing and policy engine in a multi-vendor enterprise environment, significantly simplifying migration from an on-premises PBX to a cloud-hosted unified communications or call center service.
By caching user profile information (for example from Microsoft Active Directory) the PSX SWe can very efficiently use that information to make routing decisions without having to access MSFT AD for every call.
With PSX SWe it will no longer be necessary to do duplicate provisioning and routing for legacy and cloud-based solutions.
For each incoming call, the PSX will be able to:
Determine if the called party is still on a legacy endpoint or a cloud endpoint
Route call to the cloud if the called party line is already migrated or to the legacy endpoint if not migrated
If desired, fork the call to both legacy PBX and MS Teams based on user profile attributes
Forwarding calls to other user-owned numbers based on policy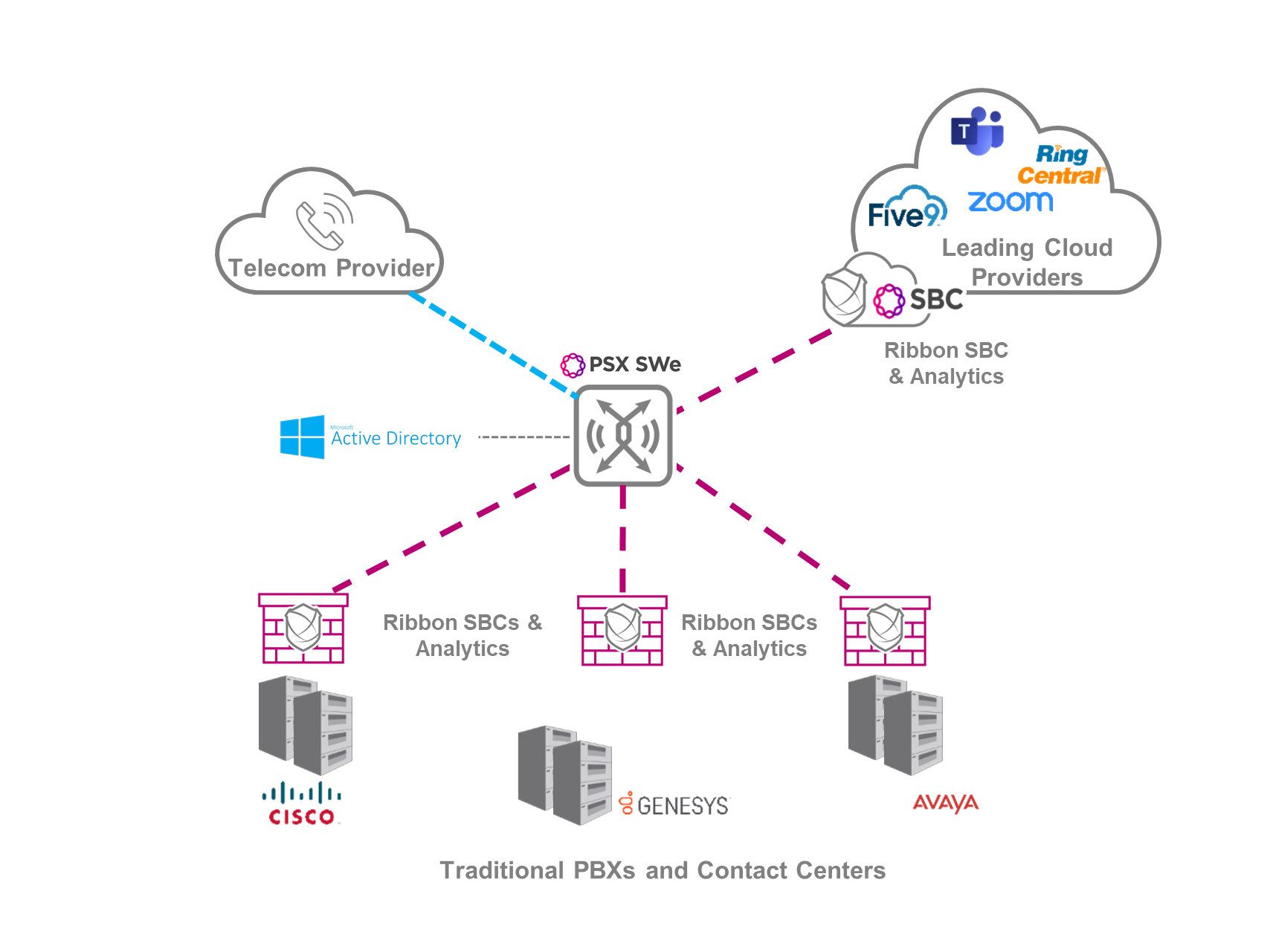 Quality of Service Routing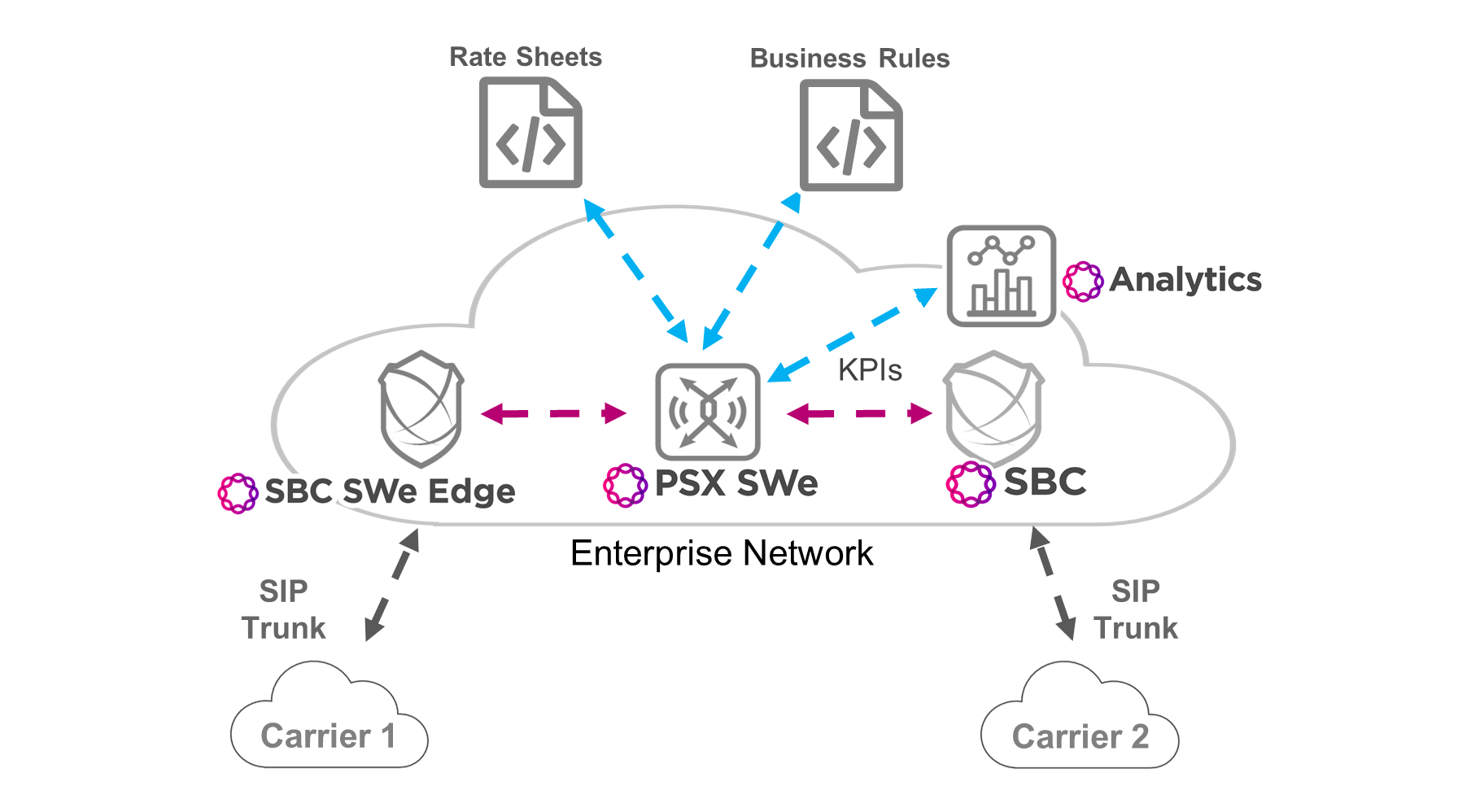 QoS based routing provides the most advanced intelligent routing based on combining the least cost with quality of service (QoS) metrics of that Trunk Group. This type of routing allows enterprises to reduce costs and increase the quality of service for their customers and employees by selecting the most appropriate TGs based on a variety of criteria, including LCR rates, service level agreements (SLAs), voice quality, and network capacity. Because of the complexity of LCR calculations and the number of variables involved, only a centralized policy and routing server can efficiently aggregate all the information and calculate the optimal routes and do so with minimal post-dial delay.
Ribbon Application Management Platform
Centralized management of PSX SWe is provided by Ribbon Application Management Platform offering a complete Fault, Configuration, Accounting, Performance, and Security solution. Delivering intuitive, reliable, scalable and automated management, a service provider can quickly configure systems, identify and remediate issues, deliver improved customer experience, and do so at reduced operational costs.
Ribbon Application Management Platform is available to manage both master and replica PSX SWe(s) deployed across multiple private and public cloud environments The platform itself is designed using cloud native principles and can be deployed in multiple data center and public or private cloud environments in standalone or high availability configurations, including options for geographic redundancy.
Download our RAMP Datasheet