Creating Ribbon's Culture for Today and Tomorrow
Culture is a critical component of successful and sustainable companies. It's been repeatedly shown that a strong organizational culture improves employee engagement, leads to increased innovation, enhances customer satisfaction and delivers better outcomes for stakeholders.
My team has often heard me say "customer first, and team before self," and over the past year we've spent time articulating a Ribbon culture that accurately reflects who we are and how we work.
Today, I'm proud to share our mission, vision, and values, and introduce some of our newest initiatives.
Our mission is to create a recognized global technology leader providing cloud-centric solutions that enable the secure exchange of information with unparalleled scale, performance and elasticity.
Our vision is to have our customers trust us to solve their most challenging communication requirements, enabling people and devices to connect seamlessly anytime, anywhere. Our customer-centric culture shapes all our activity and inspires our team members to make a positive impact with our clients, investors and communities.
While our mission and vision highlight our purpose and objectives, our values define who we are as an organization: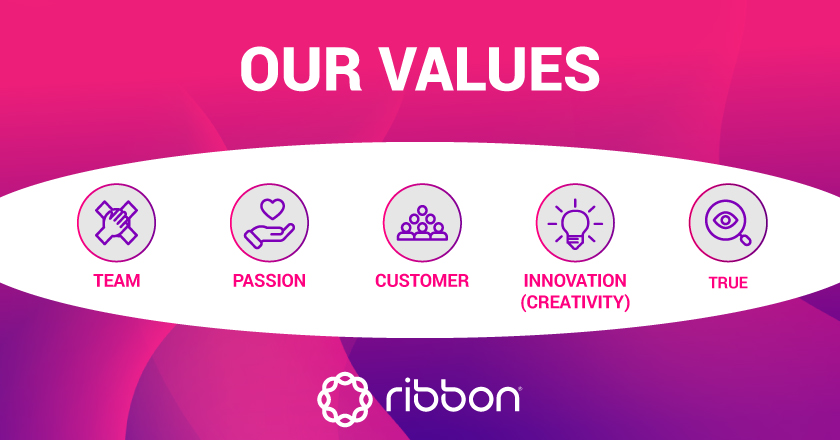 TEAM – we work as one team towards common and clear goals
PASSION – we take pride in and celebrate our achievements
CUSTOMER – we strive to be trusted advisors to our customers. We do that by listening to them, anticipating their needs and offering best-in-class solutions. Our customers know that "we do what we say"
INNOVATION – Ribbon's competitive advantage relies on our ability to offer innovative, creative, state of the art technology.
TRUE (Transparency, Respect, Unpretentious, Empowerment) - We are open and transparent in everything we do, creating trust amongst employees, customers, partners and vendors.
Of course, all of this comes down to our people. At a time when the world is moving at breakneck speed and innovation comes from anywhere, organizations everywhere are recognizing the critical impact of diversity. I'm passionate about increasing the types of backgrounds, viewpoints and skillsets that are represented within Ribbon, and to that end, we have established a target of having 25% of our new hires in 2021 be women. This is the first of many steps in building a more diverse and representative company, and something I will continue to speak about.
We recently held a townhall from our new headquarters in Plano, Texas, the first with an in-person component in over a year, a significant milestone as we continue to battle against the pandemic. One comment in particular stuck with me: an employee mentioned that Ribbon has become much more connected during this past year. I give the entire team a lot of credit for making that a reality despite the challenges we've experienced, and it's something that I hope to see even more of as we continue to build, work, and live Ribbon's culture.