Overview
Ribbon is a leading, publicly traded, global provider of communications technology, employing thousands of people operating in more than 100 countries. Using our trusted solutions, our customers can offer services that improve the quality of life for millions of people around the world, support digital inclusion across markets and lower global greenhouse emissions through efficient bandwidth utilization and cloud-based applications.
Ribbon aims to operate in accordance with relevant, Environment, Social and Governance (ESG) standards and expectations of its various stakeholders in the belief that strong a ESG program contributes to business resilience and success and generates positive impacts for economies, societies and the planet.
Our Approach
We aim to embed a structured approach to managing ESG matters throughout our business. Our approach is informed by our Code of Conduct, our corporate values, the views of stakeholders we identify as important for our business and our materiality assessment that defines priority ESG topics for Ribbon.
Ribbon's corporate values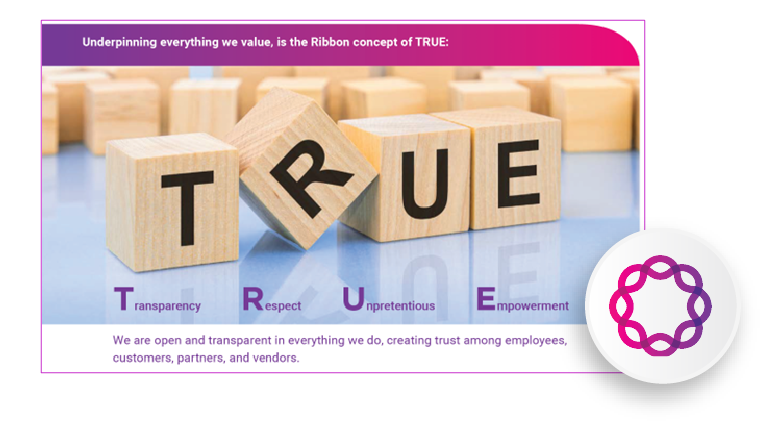 Ribbon's ESG strategy is grounded in its TRUE corporate values, and includes multiyear goals and targets in the areas of climate change, diversity, equity and inclusion and supply chain management.
Organizational structure
The Company's most senior executive, Bruce McClelland, Chief Executive Officer, is responsible for ESG at Ribbon. He is accountable to the Board of Directors for ESG compliance and advancement and is primarily supported in the operationalization of Ribbon's ESG policies and programs by Ribbon's Executive Vice President and Chief Legal Officer. Each member of Ribbon's Executive Management team is responsible and accountable for advancing ESG matters in their respective areas of responsibility at Ribbon. Ribbon's Global Head of Sustainability and Real Estate, a direct report of Ribbon's Executive Vice President and Chief Legal Officer, is responsible for driving ESG disclosures and advancing global ESG performance to meet published Company targets.
In most divisions of the company, ESG matters are advanced through functional management teams responsible for driving alignment with and achievement of Ribbon's ESG goals. As needed, cross-functional working groups are formed to address issues that cut across organizational and geographical boundaries.
Embedding policy commitments
Each member of Ribbon's Executive Management team has responsibility for the implementation of ESG policies and advancing ESG matters within their scope of responsibility and allocating necessary resources to drive progress. Ribbon's ESG strategy is factored into every aspect of corporate conduct. For example, Ribbon's procurement managers incorporate ethical and environmental supply chain management principles in selecting, onboarding and managing our supply base and our Supplier Code of Conduct is an integral part of new supplier contracts. Our Human Resources organization integrates social matters into human resources policy and programs, including considerations relating to diversity, equity and inclusion and respect for human rights and more. We report transparently on our progress in these matters in our annual Sustainability Report.  
On an ongoing basis, Ribbon provides training for employees on ESG matters, including mandatory annual training relating to our Code of Conduct, health and safety, and ethics and compliance, and voluntary training on other ESG topics as relevant to different roles and functions in the company.
Our internal reporting structures facilitate awareness of progress in ESG matters on an ongoing basis, and the entire Executive Management team formally reviews progress at least annually. The Executive Management team also reviews and approves our annual Sustainability Report.
Risk management
Ribbon's Board of Directors is responsible for assessing the Company's approach to risk management and overseeing management's execution of its responsibilities for identifying and managing risk. Significant strategic risks are overseen and evaluated by the full Board while other risks are overseen by Board committees. In our risk assessment process, we review the business impact of risks and assign likelihood and impact scores to risk areas including ESG matters such as business continuity, security, privacy, environmental management, health and safety, human rights and others. We maintain a global risk tracking tool to manage all corporate risk information in a single location allowing risk exposure and mitigation to be reviewed quickly and efficiently by Ribbon's ESG program leaders. Ribbon's senior leadership participates in the Company's annual risk reviews.
Continuous improvement
At Ribbon, we strive to continually review and revise our processes to improve the robustness of our ESG program. In addition to ongoing management, executive and Board reviews and oversight and our annual risk review, many ESG processes at Ribbon are informed by external standards and frameworks such as ISO 14001, ISO 22301, EcoVadis and others. Ribbon's continued recertification / requalification against these standards is often completed via third party audits which offer insight into our processes and highlight opportunities for improvement.
Board of Directors
Ribbon's Board of Directors is committed to upholding ethical conduct and corporate sustainability. Progress in sustainability is a regular agenda item at meetings of the Nominating & Corporate Governance Committee of the Board and the Board reviews our strategy, goals, targets and performance and guides future direction. The Audit Committee and Compensation Committee of Ribbon's Board of Directors also oversee parts of our ESG program on behalf of the Board. The Board of Directors also reviews our annual Sustainability Report prior to publication.
Supporting Global Sustainable Development
Our approach to ESG Governance supports our ability to advance the UN Sustainable Development Goals, covering most of the Goals in different ways through our different areas of ESG focus. The SDGs that we most directly advance through are business are:
Disclosure
We report transparently to our stakeholders on our ESG progress and performance across all material topics in our annual Sustainability Report and in other regulatory disclosures such as our Annual Report on Form 10-K, our management of conflict minerals on Form SD, our annual Anti-Slavery and Human Trafficking Statement and other relevant matters. All these documents are available at rbbn.com or on our Investor Relations website.  
Version 5: February 2023