iBasis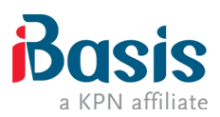 iBasis (www.ibasis.com) is one of the largest carriers of international voice traffic in the world and a global leader in VoIP. In December 2009, iBasis became a wholly-owned subsidiary of Royal KPN N.V., the national carrier of the Netherlands and a leading provider of communications services to fixed and mobile carriers, enterprises and consumers in Europe. Today, iBasis has unsurpassed strengths in the fastest-growing segments of global telecommunications—VoIP and mobile – and is a leading innovator in the use of IP for international voice.
In the worldwide migration to "All-IP" networks, iBasis has a distinct advantage since it has been delivering high quality international voice services over IP since 1997. The iBasis Network is a hybrid of IP and TDM infrastructure that spreads over more than 100 countries, 1,000 PoPs and ten Internet central offices. iBasis network operations centers (NOCs) in Burlington, Massachusetts, Hilversum, Holland and Hong Kong combine state-of-the-art network management technology with around-the-clock dedicated technicians to ensure the highest quality of service to customers worldwide. iBasis customers include Tier 1 to 3 Wholesale Carriers worldwide. The company carried over 24 billion minutes of international voice traffic in 2008.
Market Focus:
iBasis executives recognized the large potential for VoIP growth in the international wholesale market, including the increasing need to match suppliers and buyers as efficiently as possible. In addition, as Voice over Broadband (VoBB) service providers such as Skype and Yahoo entered the market, the need for secure VoIP interconnection, device interoperability, transcoding, and regionalized architecture grew substantially. Given the tremendous growth in mobile subscribers and operators, iBasis has recognized the opportunity to expand its interconnect services and leverage its leadership in IP innovation by providing an Internetwork Packet Exchange (IPX) offering. The iBasis IPX provides security, managed quality of service, and cascaded billing over a global MPLS backbone.
iBasis Challenges:
In order to offer VoIP interconnection services to its various customers, iBasis needed to employ advanced Session Border Control (SBC) functionality throughout its network. The company had very particular requirements for an SBC including:
Session management capabilities that enabled the localization of VoIP traffic within geographic regions
Session control features that seamlessly interworked and terminated traffic at various IP endpoints
Flexibility to interoperate with existing equipment in the iBasis network
Interoperability with multiple network suppliers and protocols such as H.323
Extensive security and reporting feature sets, including inter-domain masking and CDRs
Quick provisioning and turn up
Why They Chose Ribbon:
After evaluating solutions from leading SBC vendors, iBasis chose Ribbon based on its proven market successes in supplying advanced interconnect products to service providers, as well as its ability to effectively deliver on their requirements.
Why They Chose the SBC:
The Ribbon SBC provides iBasis with sophisticated session border control, session switching, and session management intelligence needed to securely provide VoIP services. Only the Ribbon SBC could provide the interoperability and termination capabilities essential to rolling out their new service offerings. The SBC is used in all of their VoIP products including direct and premium (mainly mobile) offerings.
Business Case / Deployment Benefits:
Quick deployment, turn-up and provisioning of SBCs globally
ROI in a matter of months via cost-effective and scalable VoIP interconnects
Enhanced call signaling control using standards-based VoIP protocols such as H.323 and SIP
Simplified network peering with enhanced performance and carrier-class quality metrics for operational visibility
Superior service quality through session routing and media routing or "packet steering" (route through and route around)
Interdomain masking security and CDR generation/aggregation via a single billing ingress point
Traffic origination from a wide variety of sources, with path optimization from source to destination
GSMA-compliant GRX and IPX Ecosystem allowing direct peering between mobile and fixed operators
Competitive edge
Customer Benefits:
The Ribbon SBC enables iBasis to interconnect directly and efficiently with VoIP operators and gives iBasis sophisticated session management capabilities to allow the localization of regional VoIP traffic flows and optimize bandwidth usage. The SBC allows iBasis to seamlessly flow calls over its network with reduced latency, jitter, post-dial delay, and packet loss to deliver the highest possible quality of service to end customers.