What is an IP Multimedia Subsystem (IMS)?
IP Multimedia Subsystem or IMS is a standards-based architectural framework for delivering multimedia communications services such as voice, video and text messaging over IP networks. The IMS specifications were originally created by the 3rd Generation Partnership Project (3GPP) to standardize the implementation of next-generation mobile networks.
IP Multimedia Subsystem (IMS) Architecture Overview
The IP Multimedia Subsystem (IMS) architecture decomposes the network into a distinct application, control and transport layers with standardized interfaces to promote scalability, flexibility and extensibility. An oversimplified IP Multimedia Subsystem architecture is depicted in the figure below.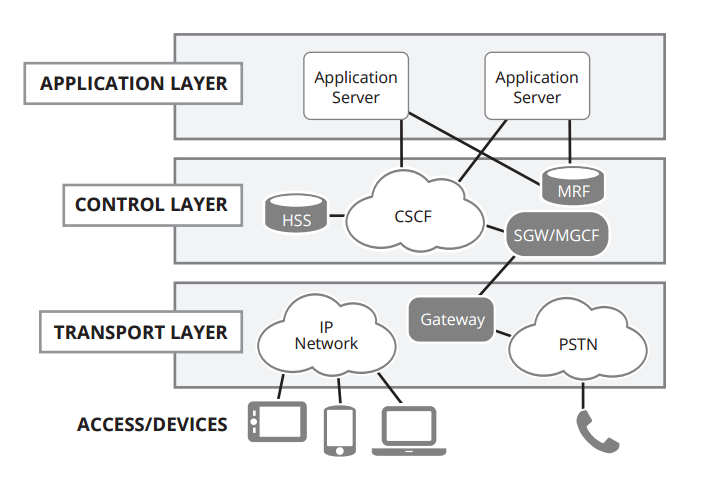 IMS enables secure and reliable multimedia communications between diverse devices across diverse networks. The architectural model provides a unified infrastructure and common mechanisms for controlling, manipulating, routing and managing sessions, as well as implementing authentication, authorization and accounting controls. The IMS specifications incorporate widely used Internet Engineering Task Force (IETF) recommendations such as the Session Initiation Protocol (SIP) for session control signaling.
The control layer often referred to as the IMS core, is the cornerstone of the architecture responsible for regulating communications flows. The main functional elements of the control layer include:
Call Session Control Function (CSCF) – the heart of the IMS architecture, responsible for controlling sessions between endpoints (referred to as terminals in the IMS specifications) and applications
Home Subscriber Server (HSS) – the master database that maintains all user profile information used to authenticate and authorize subscribers
Signaling Gateway (SGW) and Media Gateway Control Function (MGCF) – provides interoperability with the PSTN
Media Resource Functions (MRF) – provides media-related functions such as the playing of tones and digital announcements
Many IP Multimedia Subsystem functions can be deconstructed into distinct functional elements. For example, the CSCF function can play three discrete roles: Serving-CSCF (C-CSCF), Interrogating-CSCF (I-CSCF), or Proxy-CSCF (P-CSCF).
IP Multimedia Services (IMS) Advantages and Benefits
By defining a layered network architecture with open interfaces IP Multimedia SErvices provide greater flexibility and extensibility compared to traditional monolithic communications service provider network architectures. IP Multimedia Services advantages and benefits for service providers include:
Application, network and device independence: Applications are decoupled from the transport layer. Service providers can deliver common applications and services, with unified authentication, authorization and accounting across diverse devices and access networks: LTE mobile networks, Wi-Fi networks, fixed networks, MSO networks.
Reusable components: Service providers can reduce CAPEX and OPEX by leveraging common functional elements to support multiple services.
Standards-based solutions: Service providers can eliminate vendor lock-in and contain costs by deploying standards-based network elements.
Service interconnection: IMS provides standard mechanisms for peering and interconnecting distinct communications service provider networks and for enabling seamless roaming across networks.
Service diversity: The IMS standards enable a variety of IP-based communications services including voice, video, text chat, multiparty conferencing, and collaboration applications.
Convergence: Service providers can reduce OPEX by evolving legacy TDM voice networks to converged all-IP networks that support voice and IP multimedia services.
Quality of service: IMS supports policy-based QoS mechanisms for SLA assurance and to ensure satisfactory user experiences for specific applications or over specific access networks.