A media gateway is a translation device that converts media streams between dissimilar telecommunications networks. Originally conceived to bridge legacy time-division multiplexing (TDM) based voice networks with next-generation Internet Protocol (IP) based voice networks, media gateways are now used to convert a voice and multimedia sessions in a wide variety of enterprise and service provider applications.
What is a Media Gateway: Enterprise Applications
Businesses typically use media gateways to extend the life of legacy TDM gear––legacy PBXs, analog phones and access equipment, and analog lines for elevator phones, alarm systems and fax machines––while gradually introducing IP-based technologies. Enterprise media gateways enable corporate IT organizations to:
Add SIP (Session Initiation Protocol) trunking services to legacy PBX installations
Connect legacy infrastructure to new IP-based cores
Protect and extend previous TDM and analog equipment investments
Preserve existing line equipment
Avoid expensive rip-and-replace upgrades
See below for an example of an enterprise using a media gateway to connect a SIP trunk to a legacy TDM PBX.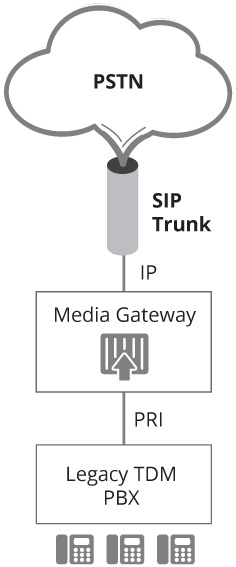 What is a Media Gateway: Service Provider Applications
Service providers use media gateways to inter-work diversely formatted voice and multimedia traffic across disparate wireless, wire-line, access, core, TDM and IP networks. Originally employed by service providers as VoIP media gateways as part of next-generation network initiatives, media gateways are now used to regulate voice and multimedia sessions.
Fixed line and mobile service providers use media gateways to:
Interwork GSM, UMTS, CDMA, and satellite networks in 2G, 3G, and 4G/LTE architectures
Enable IP media processing for IP Multimedia Subsystem architecture networks
Provide Class 4/IP Tandem/IP Trunking and Class 5/subscriber interworking for fixed networks
Perform IP-to-IP media conversion for converged networks
Deliver SIP-based services to legacy TDM-based customers
Replace legacy TDM central office switches