The Rise of Unified Communications And Collaboration Tools In The Covid-19 Era
As we are now well than a year into the COVID-19 pandemic, businesses are continuing to adapt to ever-changing realities. Initially, adapting involved shuttering offices and canceling work-related travel and events. Today, however, COVID-induced changes are a bit more nuanced. In fact, large enterprises with advanced technology and work from home policies may notice little difference when comparing pre-pandemic operations to today's. But for small and medium-sized businesses (SMBs), research from The Blueprint suggests that some changes brought on by the pandemic — like layoffs and remote work — were significant. While their offices may have been closed for a long time, SMBs still face the challenge of optimizing the productivity of a fully remote workforce.
In the Transition to a Remote-First Workforce, UC&C Tools are a Lifeline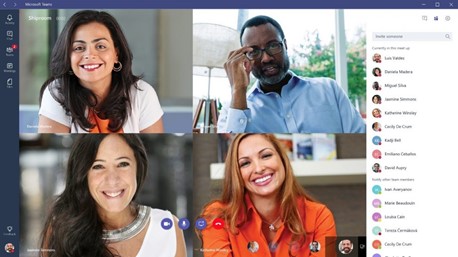 Thankfully, unified communication and collaboration (UC&C) tools can serve as a lifeline for SMBs transitioning to a remote-first workforce. Today, SMBs are embracing technology with marked enthusiasm. A survey recently conducted by my organization, Ribbon Communications, found that businesses with less than 100 employees are increasingly prioritizing IT as a result of the pandemic. The number of these SMBs that now employ a full-time, on-site IT person has increased by 67%, and as a result, UC&C adoption is up 41% compared to last year. What's more, the number of SMBs that plan to deploy Microsoft Teams within the next two years has increased by a staggering 101%.
Leveraged effectively, tools like Microsoft Teams, Slack, Skype and Zoom can provide SMBs with infinite flexibility, whether it's supporting new 'work from anywhere' policies, allowing for the participation in large-scale, virtual events or accommodating the use of temporary office spaces.
Key Factors Driving SMB Market Potential for UC&C
What is surprising about the survey findings is the data that outlines the remaining addressable UC&C market. While 24% of SMBs indicated they're putting UC&C initiatives into action (and that's a massive increase compared to the year prior), it still leaves a whopping 76% of SMBs out there for whichever UC&C provider can grab them first.
The opportunity for UC&C providers to capitalize on this substantial market segment is now, especially considering our findings revealed that 34% of SMBs reported that with their existing communications infrastructure (or lack thereof), they were "poorly prepared" to support their remote workers during the pandemic. Additionally, the number of SMBs that said 25% or more of their employees will work remotely post-pandemic increased by more than 30% compared to pre-pandemic levels.
The Future of UC&C and The Benefits Driving Adoption
Over the past 12 months, SMBs have been forced to adapt quickly and extremely -- and with far less expertise and resources than large enterprises, no less. The future certainly remains full of unknowns, but the savviest SMBs are embracing UC&C technology wholeheartedly in an attempt to survive (and ideally thrive) in 2021 and beyond. These forward-thinking companies are realizing the benefits UC&C solutions can provide their team, including:
Portability and Productivity From Anywhere: Without being tethered to desk phones and monitors, UC&C solutions allow employees to work from anywhere.
Fewer Communication Silos: While remote settings might seem like they would result in increased silos, by honing in on single platform for all communications channels enterprises can actually reduce silos with a consistent source of collaboration.
Cost-Savings: Although there might be an upfront investment to start, UC&C solutions can consolidate legacy fees for multiple communications systems.
While tools like Microsoft Teams(115 million daily active users) and Zoom (3.3 trillion annual meeting minutes) currently hold the lion's share of the SMB UC&C market, there's a variety of other providers available that SMBs can seamlessly transition into productive, remote-first workforces. With remote work clearly here to stay in some capacity, businesses can't afford to miss the benefits this powerful technology has to offer. The only question that remains is, how will your team answer the call?
Here are a few tips for investing in the right UC&C solution:
You want to choose a platform that offers any capabilities and functionality you currently leverage or need, which could include audio/video conferencing, chat/messaging, voicemail or call routing.
Look for a solution that allows you to conduct all of these activities in-app without requiring you to leave.
Make sure the solution you're considering can adequately support your company and your work-from-home model. (Don't invest in a solution that is designed for a 100-person company when you only need it to support 10 employees, for example.)
You want to look for a solution that is market-tested and has referenceable customers.
Make sure the solution includes protection against any security threats your organization or industry struggles with. This could include fraudsters, robocallers or Denial of Service (DoS) attacks.
Don't just look for the cheapest platform, because as the old adage says: you usually get what you pay for.
There is no doubt that the pandemic has had a profound effect on the way we work and collaborate and that work as we know it has been changed forever. One major example is the surge in companies that have adopted UC&C platforms. I expect those adoption rates to continue increasing going forward. If companies leverage these solutions properly and choose the right tools for their organizations, they can be great assets for helping them succeed in a post-pandemic world.