Overview
Ribbon is a leading, publicly traded, global provider of communications technology, employing thousands of individuals operating in more than 100 countries. Using our trusted solutions, our customers can offer services that improve the quality of life for billions of people around the world, support digital inclusion across markets and lower global greenhouse emissions through efficient bandwidth utilization and cloud-based applications.
Compliance is fundamental to business success and essential for the maintenance of business continuity, the loyalty of customers and business partners, regulatory bodies, and employees.
Our Approach
Ribbon conducts its' business in accordance with the highest ethical standards and in compliance with all applicable governmental laws, rules and regulations in every country in which we operate. The principles of integrity, accountability and fair dealing are the cornerstone of Ribbon's business and are critical to its future success. Ribbon believes that it is imperative that its' employees* act at all times in an honest and ethical manner in connection with their service to Ribbon and in compliance with all applicable laws and regulations.
*Our Approach to Compliance applies to all directors, officers and employees of Ribbon without exception. They are collectively referred to in this document as "employees."
Zero tolerance for non-compliance: Ribbon does not tolerate breaches of applicable laws, including the spirit of the law, regulations, generally accepted practices and standards. All material breaches in compliance are reported to Ribbon's executive leadership and the Board of Directors to the extent deemed appropriate by the EVP, Chief Legal Officer.
Embedded compliance programs: Our global compliance programs are designed to ensure compliance throughout our organization and prevent compliance breaches, while striving to eliminate potential compliance breaches occurring through lack of awareness. Ongoing compliance governance includes:
Defined compliance governance framework, including clear accountabilities, policies, standards and procedures
Compliance risk management and monitoring through annual risk assessments and ongoing reviews by Ribbon's legal department and internal auditors
Prompt investigation of compliance-related issues or suspected compliance breaches, and implementation of appropriate actions
Ongoing education, training and communications on matters relating to compliance
An employee hotline for reporting compliance concerns without fear of retaliation
Engagement of suppliers who are committed to ethical business practices through due diligence and ongoing monitoring
Reporting to Ribbon's Board of Directors, with immediate reporting of material compliance breaches if applicable.
Culture, Communications and Training: Ribbon aims to ensure a culture of compliance, ethical conduct and zero tolerance for corruption and bribery. All Ribbon employees are trained in Ribbon's Code of Conduct, which provides a strong basis for understanding the need for and practical approaches to ensuring compliance across all areas of our business in all locations. Compliance training for all employees includes a focus on anti-harassment, anti-discrimination and anti-bribery and anti-corruption. New employees must agree to comply with our Code of Conduct as a condition of joining Ribbon and current employees must re-certify each year.
Relationships with Suppliers: Ribbon's suppliers are expected to conduct their business in an ethical and compliant manner. Ribbon's Supplier Code of Conduct is a binding commitment in Ribbon's procurement contracts and suppliers are obliged to uphold its provisions, including those relating to compliance. Ribbon conducts due diligence on suppliers, including resellers and agents, incorporating periodical screenings, risk assessments, compliance health checks and financial propriety checks.
Risk Assessment: Ribbon conducts anti-corruption risk assessments across all business units and operations as part of our annual Enterprise Risk Management procedures. Such assessments may be performed by Ribbon's qualified internal auditors or by an appointed third party and include aspects of social and environmental compliance as well as financial and business regulatory compliance. The outcomes of such assessments are communicated to Ribbon's executive leadership and appropriate actions implemented to address non-conformances, if any.
Reporting Suspected or Actual Violations: Ribbon employees are empowered to report instances of suspected or actual compliance violations via a variety of reporting channels including direct access to the Company's EVP, Chief Legal Officer. through various reporting options which are made available 24/7/365 on the intranet. All reports are promptly investigated and appropriate actions undertaken. Confirmed instances of material non-compliance are reported to Ribbon's executive leadership and the Board as deemed appropriate by the EVP, Chief Legal Officer. Ribbon does not tolerate retaliation against employees for making good faith reports.
Supporting Global Sustainable Development
Our Approach to compliance directly supports UN Sustainable Development Goal (SDG) 16 which calls for promoting the rule of law at the national and international levels.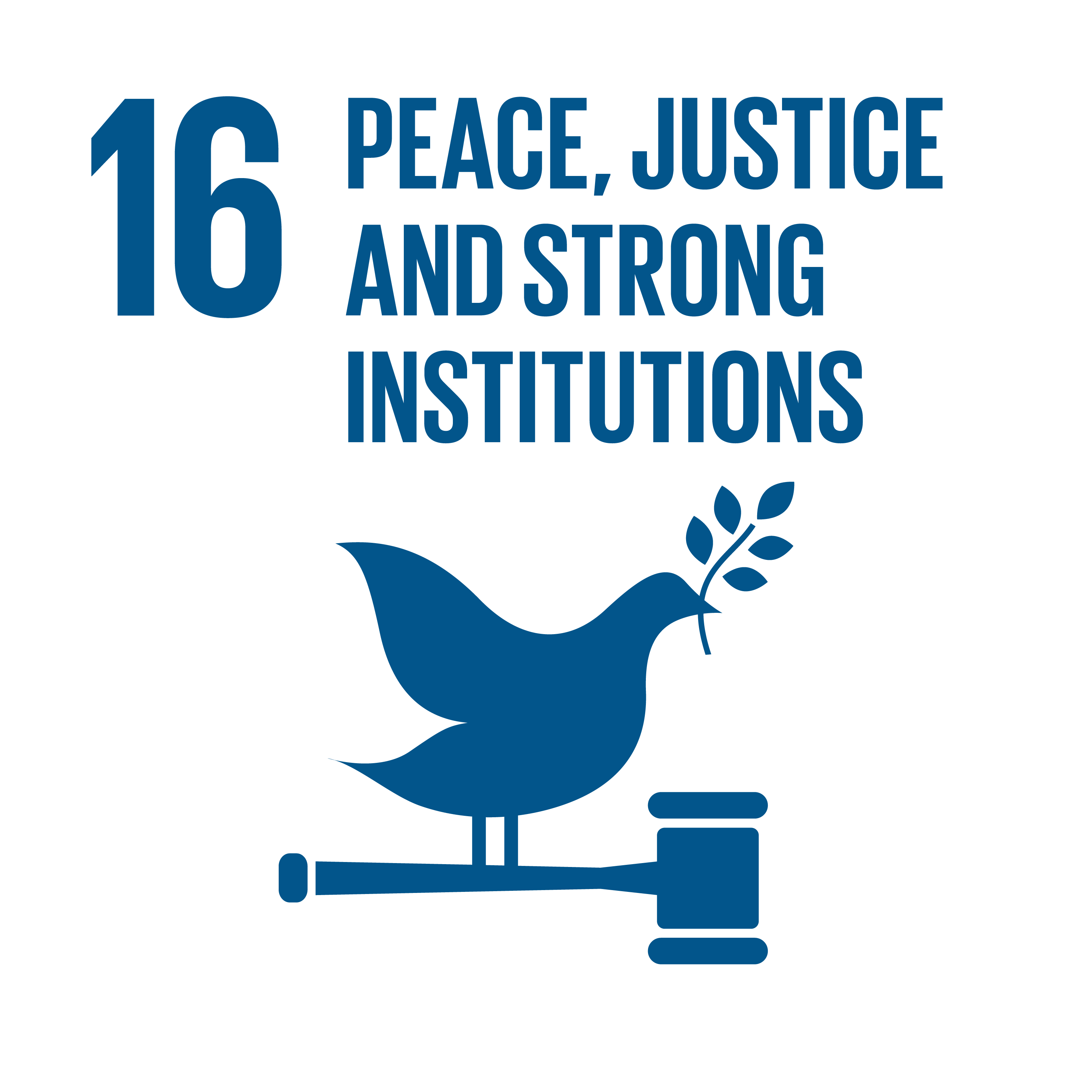 Target 16.3: Promote the rule of law and ensure equal access to justice
Governance
Executive direction of our compliance infrastructure is led by Ribbon's Executive Vice President and Chief Legal Officer. Other senior managers also play an important role in ensuring effective organizational controls related to compliance.
The Audit Committee of the Ribbon's Board of Directors oversees Ribbon's standards of compliance and adherence to Ribbon's compliance program, and reviews regular management reports and ad hoc reports on compliance.
See also: Ribbon's Code of Conduct, and Ribbon's Approach to Anti-Corruption.
Disclosure
We report transparently to our stakeholders on progress and performance related to anti-corruption in our annual Sustainability Report.
Version 3: April 2022