M6424 Overview
The M6424's high performance design is purpose built for Time Sensitive Networks(TSN), enabling advanced mobile networking architectures and applications with nanosecond timing requirements.
Connect direct to cellular radios using Common Public Radio Interface(CPRI) and eCPRI, bridging the traditional mobile network and Ethernet infrastructure for a modern centralized or cloud-based NFV mobile architecture.
CPRI traffic is encapsulated using IEEE 1914.3-compliant Radio-over-Ethernet(RoE) mappers, integrated synchronization provides performance that exceeds existing solutions.
Flexible network deployment, supporting both controlled and hardened environments. Centralized fronthaul aggregation to BBUs and cloud topologies feeding TOR to vBBU. Hardened remote deployment enables service blending, CPRI aggregation at the remote radio head (RRH) with evolving RRH small cell eCPRI densification.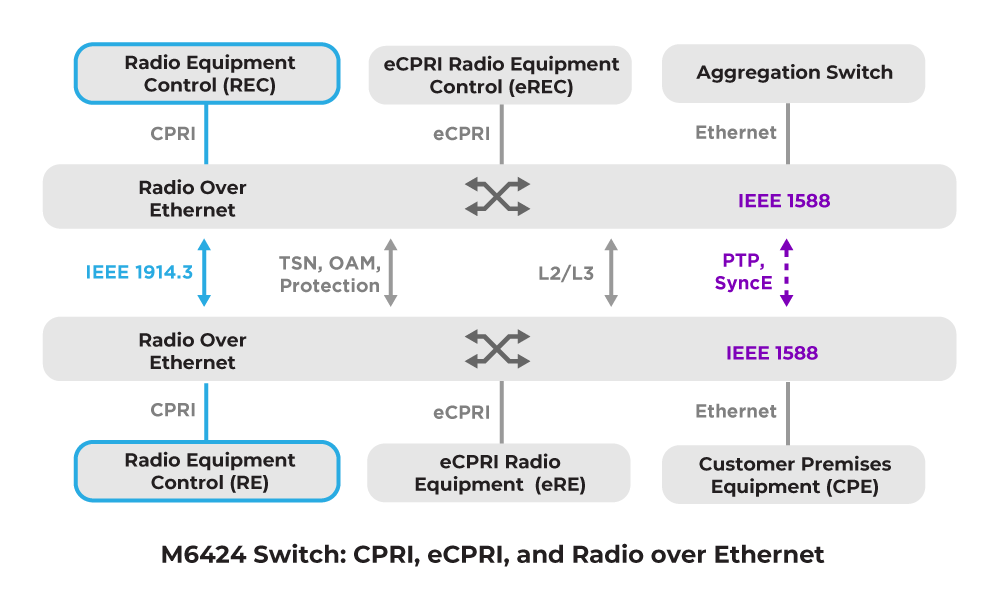 M6424 Benefits and Features
Radio Over Ethernet (RoE)
Time Sensitive Networking (TSN)
Product Specification Highlights
Performance

Switch capacity: 800G

Physical Specification

19", 1U Rack mountable(17"W x 1.7"H x 14.9"D)

Routing Capabilities

Layer 2 : Multicast, VLAN Translation, IGMP, IPMC
MPLS : VC SWAP, L3 MPLS(RFC-2547), L2 MPLS PWE
Layer 3 : v4/v6 Routing

RoE Mapping

IEEE 1914.3 compliant
Flexible, user configurable mapper
64 AxCs per port
Supported CPRI: 24.33024G, 12.16512G, 10.1376G, 9.8304G, 4.9152G, 2.44576G
Synchronization: BC, OC, TC, SyncE

High Availability

Dual, Load sharing hot swap AC/DC
Dual FAN module with field replaceable

Synchronization

BC, OC, TC, SyncE

OAM

3 levels of H-QoS

Ethernet Interfaces

1G, 2.5G, 5G, 10G, 25G, 40G, 50G, 100G

Operating Environment

-40°~65°C
NPT Product Family

Access Routers Family
| Product | M6424 | NPT 1050 | NPT 1100 | NPT 1250 | NPT 2100 |
| --- | --- | --- | --- | --- | --- |
| Fit | 4G and 5G Fronthaul | High Availability Access Edge | Access Edge and Pre-Aggregation | High Availability Access Edge and Pre-Aggregation | High Performance Access Edge and Pre-Aggregation |
| Capacity | 800 Gbps | 300 Gbps | 300 Gbps | 300 Gbps | 800 Gbps |
| Service | CPRI, eCPRI, TSN | Ethernet, Layer 2 VPN, Layer 3 VPN, CES, XGS-PON | Ethernet, Layer 2 VPN, Layer 3 VPN, CES | Ethernet, Layer 2 VPN, Layer 3 VPN, CES, XGS-PON | Layer 2 VPN, EVPN, Layer 3 VPN, CES, XGS-PON |
| Rack Units | 1RU | 1RU | 1RU | 2RU | 1RU |
|   | View | View | View | View | View |