NPT 2032 Overview
Compact design and a feature–rich set of capabilities mean the NPT 2032 is a highly energy efficient solution for operators looking for IP Clos Data Center solution running on a commercial SONiC distribution that provides full set of Layer 3 functionality. The Neptune 2032 uses a NOS based on fully supported commercial open-source SONiC distribution, which Ribbon integrate with fully certified OCP Accepted Edge-Core Networks switch hardware and Broadcom Trident 3 silicon.
The NPT 2032 provides 3.2Tbps capacity, supporting 32 QSFP28 ports which can be configured to provide 100GbE, 40 GbE, 2x50 GbE, 4x25 GbE and 4x10 GbE interfaces. The Neptune 2032 is optimized to provide BGP EVPN-VXLAN in a IP CLOS datacenter architecture and has the flexibility to be deployed in configurations varying from fully non-blocking through to 15:1 oversubscription (downlink:uplink) . The Neptune 2032 is agile enough to support multiple deployment options such as top-rack leaf switch (TOR), border-leaf deployments, End of row (EOR), spine. Neptune 2032 has interchangeable front-to-back and back-to-front fan and PSU options, so it can be deployed in both server racks and aggregation/routing/networking racks.
Ribbon's integrated solution is end-to-end system tested and validated. Training, installation and ongoing operational support and expertise is provided by our extensive support teams who offer a tailorable set of white-glove services able to meet every customers needs.
For customers considering disaggregated networking datacenter solutions, Ribbon can offer validation services for 3rd party hardware running SONiC NOS.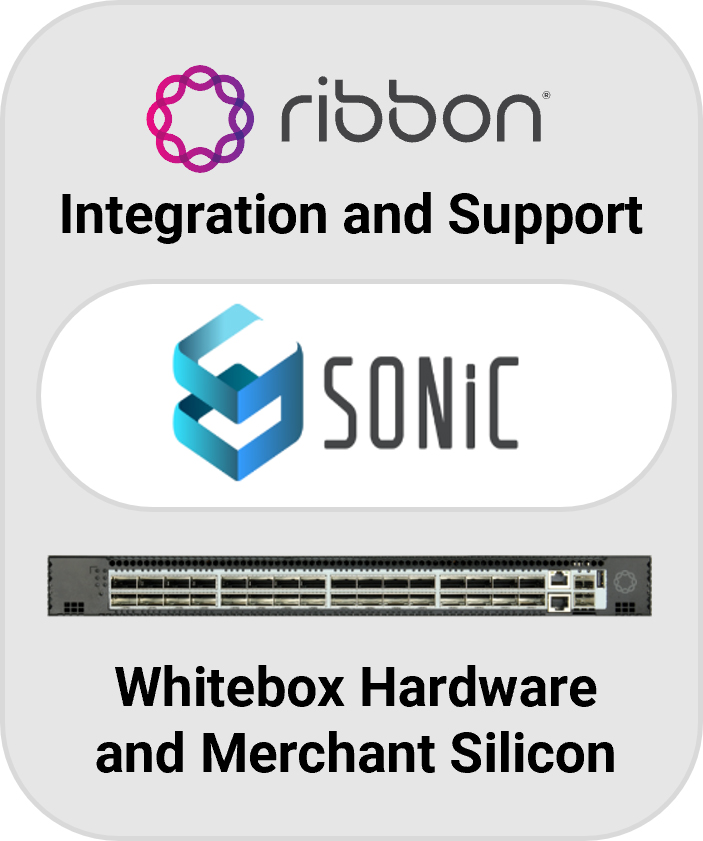 NPT 2032 Benefits and Features
Open Source Pure SONiC NOS
Industry proven open source NOS embracing open-source community driven networking development
Verified and Certified Hardware and Integration
OCP accepted whitebox hardware fully integrated and certified with the SONiC NOS
IP CLOS Data Center Architecture
Optimized for BGP EVPN-VXLAN in a fully non-blocking IP CLOS datacentre architecture
White Glove Services with Global Support
Tailorable white glove services offering local and follow the sun expertise and support 24/7/365
Simple 2-Tier Data Center Architecture IP CLOS Overlay with BGP EVPN-VXLAN
Ideal approach for medium sized telco deployments and enterprises such as financial datacenter silos, campus datacenters and Utelco private datacenters. Provides both Layer 2 and Layer 3 transport between the compute clusters with BGP EVPN-VXLAN.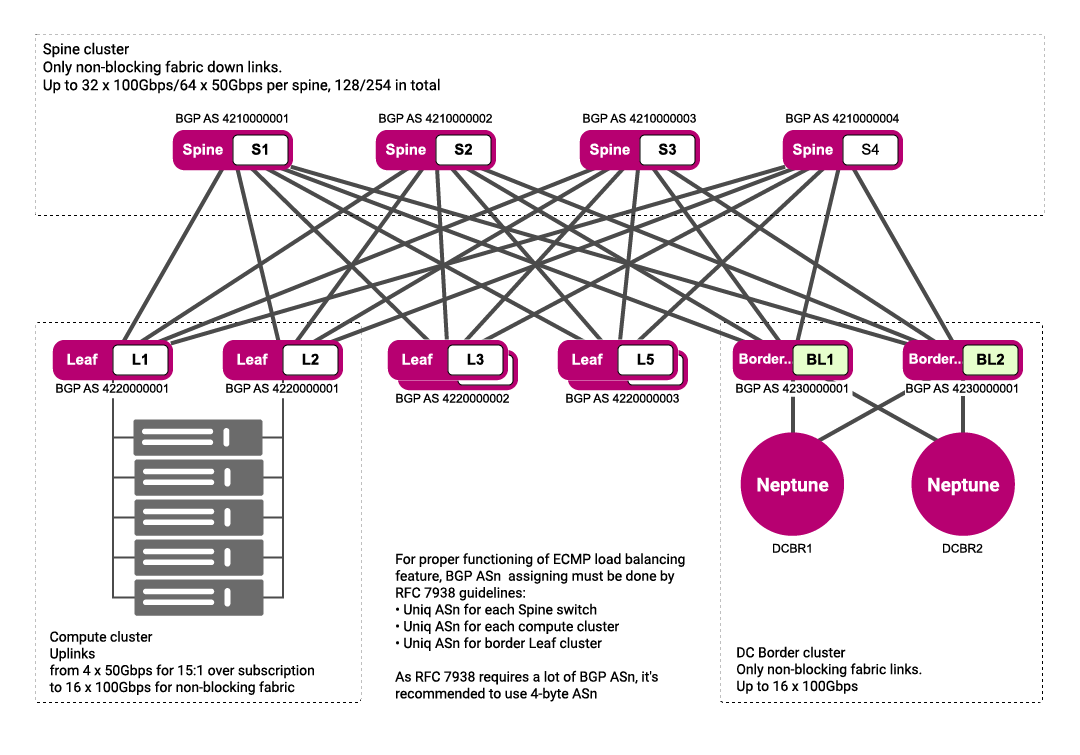 NPT 2032 Product Specification Highlights
Performance

Capacity: 3.2 Tbps
Forwarding Rate: 2Bpps

Physical Specification

1RU: 438.4mm(W) x 515mm(D) x 43.mm(H)

Switch Silicon

Broadcom BCM56870 Trident III 3.2 Tbps

Deployment Options

Top-of-rack switch or Border Leaf supporting 10 or 25 GbE to servers, with 40 GbE, 50 GbE, or 100 GbE uplinks.
Spine switch supporting 40 GbE, 50 GbE, or 100 GbE ToR,EoR and spine interconnects

Routing

BGP EVPN-VXLAN, Layer 2 or Layer 3 forwarding

Layout

All ports on front; PSUs and fans accessible from rear
5+1 redundant, hot-swappable fan modules.

Power

Energy Efficient: Power Consumption: 550 Watts maximum
Hot-swappable, load-sharing, redundant AC or -48V DC PSUsAC input range: 100 V~240 VAC
DC input range: -36~-75 VDC

Operating Environment

0°C to 45°C (32°F to 113°F)
NPT Product Family