Designed Exclusively for the Cloud
Available in the Azure Marketplace
Ribbon's Session Border Controller, Cloud Native Edition Edge (SBC CNe Edge) operates natively in the Azure Cloud. In minutes, an organization can deploy a Ribbon SBC to enable Teams Direct Routing, Zoom Phone BYOC or almost any other cloud UC or cloud contact center service to connect to a telecom provider. It's the ideal solution for business that are moving their applications to the cloud. Organizations get the benefit of latest generation of microservices architecture that uses containers and industry-leading service orchestration tools. The cloud-native architecture is inherently resilient and elastically scalable.  That means it can automatically expand capacity as call volumes increase and scale down when traffic is light, reducing cloud compute costs.
Enabling a Layered Approach to Security
Using Big Data to Look for Threats and Take Action
Enterprises need a layered approach to security; Ribbon Analytics provides a suite of security applications that complement a Ribbon SBC. Ribbon Analytics can identify potential attacks and determine the level of threat associated with illegal robocalls, fraud attempts, and Telephony Denial of Service attacks. It leverages a big data analytics platform, running behavioral analytics to observe and detect potentially malicious activity, turning data into actionable information to make per session policy decisions.  Mitigation and/or prevention decisions are enforced using Ribbon's session border controllers (SBCs) or with multiple vendor's equipment. Ribbon Analytics, in concert with Ribbon SBCs, can stop bad actors and their malicious attack before they affect your business.  
Complementing our security application suite, Ribbon Analytics also offers a network operations application suite to perform retrospective root cause analysis. The platform uses historical data and key performance indicators (KPI) data to identifying longer term network trends and anomalies,  exposing issues that may occur over extended periods of time. This includes near real time KPI data from Microsoft Teams, all the way to the client. In the case of Teams, the platform can see what's happening on the client side and the telecom side, providing a unique end-to-end view of an entire network, making it easier to discover, troubleshoot and resolve issues.
Managing SBC CNe Edge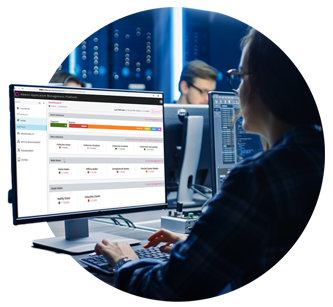 Ribbon's SBC CNe Edge is managed from a centralized Ribbon Application Management Platform (RAMP) offering a complete Fault, Configuration, Accounting, Performance, and Security solution. Delivering intuitive, reliable, scalable and automated management, an enterprise can quickly configure the SBC CNe Edge, identify and remediate issues, deliver improved customer experience, and do so at reduced operational costs.
Ribbon Application Management Platform manages SBC CNe Edge deployed on Azure or AWS. The platform itself is designed using cloud-native principles and can also be deployed in multiple data center and public or private cloud environments in standalone or high availability configurations, including options for geographic redundancy.
Download our RAMP Datasheet
Hardware, Software or Cloud
Visitors may notice the similarities between the SBC CNe Edge, SBC SWe Edge, SBC 1000 and SBC 2000, we hope so. Ribbon uses the same core software for these products so our customers can easily choose the size and deployment model that fits their environment. Each product delivers the same robust security services, ease of deployment and media management capabilities. The SBC CNe Edge is unique in its cloud native architecture while the SBC SWe Edge uses a virtualized platform that can be deployed on a wide variety of hypervisors and public cloud. Further, the SBC 1000 and SBC 2000 provide options for physical interfaces (FXO/FWs, T1/E1, etc.) for device or PBX/ contact center migrations.
Review the chart below for more details.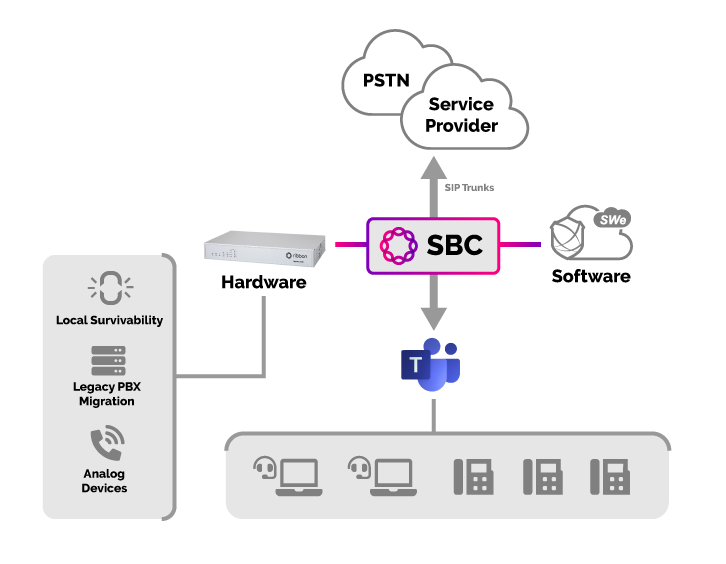 Service Type
SBC CNe Edge software on Azure Cloud
Software Image
SBC SWe Edge
Turnkey Ribbon Appliance - SBC 1000
Turnkey Ribbon Appliance - SBC 2000
Microsoft & Zoom Certified
●
●
●
●
Award Winning Security
●
●
●
●
SIP Trunk Provider Interoperability
●
●
●
●
PBX & Cloud UC Interoperability
●
●
●
●
Intuitive Web Configuration Tools
●
●
●
●
Advanced Call Routing Features
●
●
●
●
Tones & Announcement Support
●
●
●
●
Comfort Noise & Silence Suppression
●
●
●
●
Network Jitter Compensation
●
●
●
●
Music on Hold
●
●
●
●
Transcoding
●
●
●
●
Microsoft SBA Support for Local Branch Survivability
Future Release
●
●
●
Purchase Model
Monthly as a Service
One-time Purchase
One-time Purchase
One-time Purchase
Support Contract
Included
Annual Purchase
Annual Purchase
Annual Purchase
Maximum Users
100,000
5000
600
1000
Maximum Concurrent Calls
10,000
1000
192
600
T1/E1/ or BRI Ports (connect legacy PBXs)
Local gateway required
Local gateway required
Up to 4 T1/E1 or 12 BRI ports
Up to 16 T1/E1 – 2 x 8 T1/E1 spans
FXS Ports (analog phones, fax, etc.)
Local gateway required
Local gateway required
Up to 24 FXS ports
Up to 48 FXS ports – 2 x 24 ports
FXO Ports (analog lines for emergency calling, etc.)
Local gateway required
Local gateway required
Up to 12 FXO ports
Local gateway required
More on SBC CNe Edge
More on SBC SWe Edge
More on SBC 1000
More on SBC 2000
Cloud Agnostic
Ribbon can connect different brands and generations of technology to simplifying cloud migrations
Moving to the cloud is a technology imperative for tens of thousands of CIOs and IT Managers. However, the path to get there is not always a straight one. Geography, user training challenges and budget constraints can make it challenging to migrate all of an organization's communications to a monolithic environment.  Indeed, some managers may also be concerned about a monolithic design that makes them beholden to a single vendor for all of their communications technology.
Ribbon SBCs uses industry standard SIP for platform agnostic integration and can even add local gateways to support legacy PRI, BRI and analog circuits from older hardware. The same Ribbon SBC can connect multiple cloud solutions to multiple telecom providers.  Ribbon has certified, tested or had real-world experience connecting hundreds of services, providers and devices. Visit our Interoperability Guides to learn more.
Our Carrier Heritage Matters
Ribbon SBCs run in the largest telecom networks in the world as well as many of the largest cloud solution providers, that means there's a good chance that your Ribbon SBC will be connecting to another Ribbon SBC. It also means that every Ribbon product is designed from day one for high-volume, high-value deployments. Ribbon elements offer in-service upgrades, so the network is never out of service. We understand that no communications are of higher value than your own.  
The Benefit of Our Experience
Ribbon Profession Services Staff Are Ready To Deliver A Complete Solution
With decades of experience deploying solutions in many of the worlds most demanding enterprise environments, Ribbon's people are ready to help. They have worked with nearly all of the major cloud collaboration and contact center vendors. Our staff have helped over a thousand global telecom providers deploy their networks using Ribbon solutions. Whether your organization delivers financial services, educates students, manufactures products or delivers people and cargo, Ribbon's people have the experience to make your deployment more secure, more efficient and more engaging for your customers.
The Ribbon Difference
The Ribbon Difference
No other SBC provider can match Ribbon's complete solution for communications security, solution integration, and value. More importantly, those capabilities are backed by Ribbon people. Our solutions are built by Ribbon R&D teams, sold by Ribbon sales staff and authorized Partners, and supported by Ribbon services teams. We are the leading the market for:
Cloud Native Technology- Ribbon's SBC CNE Edge uses microservices built on industry-standard Docker containers with Kubernetes-based service orchestration.
Scale–The SBC CNe Edge elastically scales up to 10,000 simultaneous calls, enough for the largest enterprises.
Open Architecture– Unlike some of our competition, the SBC CNe Edge can leverage common cloud native toolsets. It's built to support open standards and integrated with a complete portfolio of Ribbon solutions for threat mitigation and nuisance call mitigation.
Proven– Billions of minutes of use underpin each of our solution elements. It's no accident that many of the world's largest telecom providers and the fastest-growing cloud UC and contact center providers depended on Ribbon SBCs.
Find out for yourself, contact us today.