Voice over IP (VoIP) is a general telecommunications industry term for carrying telephone calls over IP (Internet Protocol) networks. VoIP eliminates communications infrastructure cost and complexity by converging voice and data traffic onto a common IP network. VoIP technologies and solutions have been widely adopted by consumers, businesses and service providers beginning in the mid-2000's.
Historically, the terms VoIP and IP Telephony have often been used interchangeably. The term Internet Telephony was often used to refer to the specific case of VoIP over the public Internet.
What is VoIP: For Consumer Applications
Consumers use VoIP services to reduce long distance and international voice calling expenses. Many independent VoIP service providers and over-the-top (OTT) service providers offer subscribers low-cost PSTN access over broadband Internet. Many cable multiple-system operators (MSOs) also offer VoIP services, often as part of "triple play" packages. VoIP services are accessed using special-purpose IP softphone clients or IP telephones. Most dedicated residential VoIP service providers and cable MSOs also support analog telephone adapters (ATAs) for conventional home telephones.
What is VoIP: For Business Applications
Businesses use VoIP products and services to reduce telecommunications equipment costs and operating expenses. Businesses have supplanted traditional office telephone systems such as digital key systems and PBXs with IP-based PBXs and more recently, IP-based unified communications (UC) solutions that support not only voice, but other forms of real-time communications including video and text messaging. VoIP systems and services enable corporate IT organizations to:
Reduce equipment costs and eliminate vendor lock-in by migrating proprietary hardware-based communications solutions to standards-based, software-oriented solutions
Reduce office-to-office calling expenses by carrying internal calls over the corporate IP data network (often referred to as toll bypass)
Reduce contact center operating expenses by transferring site-to-site calls over the corporate IP data network (avoiding expensive carrier take-back-and-transfer fees)
Reduce PSTN termination costs with IP-based SIP (Session Initiation Protocol) trunking services
Reduce infrastructure costs by carrying voice and data over the same wiring plant
See below for an enterprise VoIP implementation. UC servers and SIP trunks are deployed at central data center. Site-to-site traffic is carried over the corporate IP data network.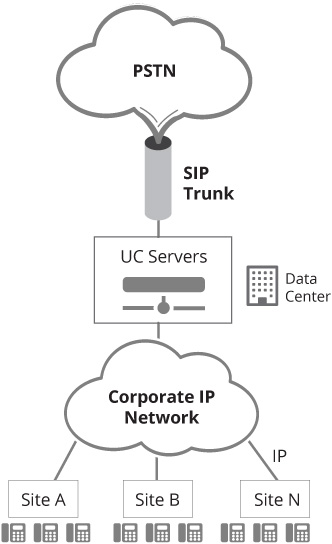 What is VoIP: For Service Provider Applications
Service providers use VoIP technologies internally to eliminate CAPEX and OPEX. Providers are migrating traditional TDM (time division multiplexing) network architectures to more flexible and cost-effective packet-based architectures (referred to historically as next-generation network architectures). Fixed-line and mobile service providers implement IP-based core networks to contain equipment and operations costs, eliminate vendor lock-in and improve service agility. They also implement IP-based connections to other service providers (peering and interconnects) to reduce cost.
Many service providers market VoIP services to consumers, businesses and other service providers, including:
Residential and consumer telephone services
SIP trunking services for businesses
Hosted and cloud-based VoIP services for businesses such as IP Centrex or hosted audio conferencing
IP backhaul, interconnect, exchange and wholesale services for service providers
SIP trunking and PSTN termination services for service providers
VoIP Protocols, Components and Regulatory Considerations
SIP and RTP (Real-time Transport Protocol) has emerged as the protocols of choice for establishing, controlling and transporting VoIP sessions. SIP has widely supplanted earlier IP multimedia signaling protocols such as H.323 in service provider and enterprise networks. (RTP) is widely used to deliver multimedia traffic over IP networks.
IP Multimedia Subsystem (IMS) is a standards-based architectural framework for delivering VoIP and other real-time communications services over IP networks. The IMS specifications were originally created by the 3rd Generation Partnership Project (3GPP) to standardize the implementation of next-generation mobile networks.
VoIP networks include a variety of network elements such as media gateways for integration with legacy TDM-based networks and the PSTN, and session border controllers (SBCs) for securing and controlling VoIP sessions.
In many parts of the world VoIP service providers and businesses using VoIP services must comply with government regulations related to emergency calling services and lawful intercept such as the Communications Assistance for Law Enforcement Act (CALEA) in the United States. In some countries in the developing world VoIP services are highly restricted or banned outright.