Continuing to Execute During Uncertain and Challenging Times
We are rapidly approaching the six-month mark of the COVID-19 global pandemic and expect to be living with its effects for the foreseeable future. While our Ribbon business has not been immune from this once in a lifetime public health crisis, together we have managed it very effectively and kept our customers first! This is largely due to the extraordinary efforts of our people, along with the quick actions and decisions we took to change our work model and carefully manage expenses. I am optimistic that as the year progresses, we will begin to incrementally return to 'business as usual' while also preserving many of the good things we have learned from this situation.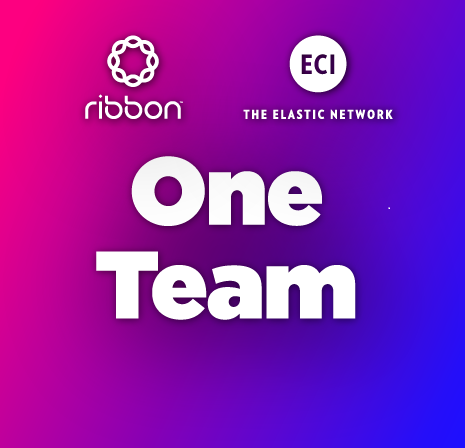 I am so proud of the hard work and dedication of our team members during the pandemic. Not only have they rapidly adapted to working from home, but they have done an amazing job of supporting our customers and partners over the past several months.
Given all of the challenges we have faced, the first half of the year was extremely busy for us. In an earlier blog, I outlined my strategic priorities for the company, which included:
Ensuring the safety and well-being of our employees during the pandemic
Driving the successful integration of the recent Ribbon and ECI merger
Unlocking the value of the merger by growing share in the Packet Optical market and leveraging cross-selling opportunities for the combined company
Continuing to transition the Cloud & Edge portfolio and business model towards software and as-a-Service solutions
Preparing our customers for the deployment of 5G
Continuing the growth of our enterprise edge business by leveraging key partnerships such as Microsoft
Q2 Highlights
I am happy to report that we are executing against all of these objectives. And as I mentioned earlier, while our business, like many others around the globe, has been impacted by the pandemic, we have also enjoyed many successes, especially as it relates to our priorities above. Some notable accomplishments from the second quarter that are worth highlighting:
The Ribbon-ECI merger continues to move along seamlessly as evidenced by the establishment of our Cloud & Edge and Packet Optical Networks Business units, and integration of the Operations and SG&A functions. We are already identifying cross-selling opportunities with existing Ribbon customers who are interested in our packet optical solutions and with former ECI customers who are interested in our cloud and edge products.

We continue to make progress on our goal to transition our cloud and edge solutions to software. This past quarter, software sales comprised more than 60% of our revenues.

We reported several key customer wins during the second quarter, including two strategic 5G-related successes.
Bharti Airtel, the third largest mobile carrier in the world, deployed Ribbon's packet optical solution to their 5G-ready IP/MPLS network. We have enjoyed a long relationship with Bharti and are extremely pleased they entrusted us to support their next generation network.
We closed a significant deal with a major US mobile operator for a new VoLTE voice transcoding platform to support both 4G AMR wideband voice codec and NextGen 5G Enhanced Voice Services (EVS) codecs.

We helped numerous customers including LogMeIn, Bandwidth and IPFone manage unexpected surges in network traffic demand due to the increased number of people working from home.

Our Packet Optical portfolio was ranked "very strong" in a recent GlobalData report that focused specifically on 5G Transport solutions, and we were the leader in network slicing, which is critical in supporting high performance private networking use cases.

We recently launched Ribbon Connect, a portfolio of subscription based "as-a-service" offerings. The first offer in the portfolio supports Microsoft Teams Direct Routing and enables carrier-grade voice calling capabilities in minutes.
Unlocking the Value of Kandy
In addition to these second quarter achievements, we also recently announced that we will be selling our Kandy Communications Platform to American Virtual Cloud Technologies (AVCT). This was certainly not an easy decision, as we launched Kandy nearly six years ago and have been extremely proud to see it grow into a recognized Communications Platform as a Service (CPaaS) and Unified Communications as a Service (UCaaS) platform with a roster of marquis customers like AT&T, Etisalat (largest telecom provider in the UAE), IBM and the City of Los Angeles, just to name a few.
The transaction allows AVCT to unlock Kandy's true value and strong potential, while capitalizing on the momentum the business has established. This will also enable the Ribbon team to be even more focused on executing our service provider and enterprise strategy to the benefit of our customers. Once the transaction closes, Ribbon will become a shareholder in AVCT, which means that we will have a vested interest in helping to ensure a smooth transition and the continued success of Kandy.
As we wrap up a busy first half, we are laser focused on continuing to build momentum each quarter and closing out the year strong. Our priorities have not changed – and if we execute I am confident we will deliver significant shareholder value during this very unusual and challenging 2020!