Stepping Up Again: Ribbon Employees Spend Nearly 4,500 Hours Volunteering on Ribbon Day
During our second annual "Ribbon Day" Global Day of Service (October 25th) approximately half of our global workforce spent their day off volunteering and giving back to causes and organizations that are near and dear to them. This is my 9th year being a part of such a unique and awesome day and the feeling of pride, humility and joy it brings me never gets old.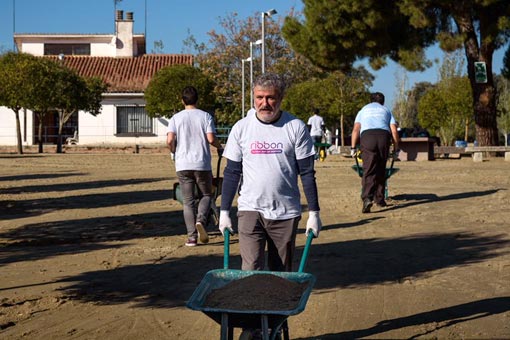 To the contrary, I think that it grows each year knowing that I get the opportunity to work with such a caring team of professionals who are eager to support their communities and the organizations that mean the most to them. This year our team members again stepped up and showed what they are made of – Ribbon employees from 16 countries spent Ribbon Day supporting 60 charities (double last year's total), local organizations and non-profits, volunteering nearly 4,500 hours of community service.
The thing about Ribbon Day that is so amazing to me is the wide array of causes that my colleagues support. Whether it is volunteering at animal shelters, helping out at food pantries, cleaning up beaches and parks, working with children with disabilities, spending time with the elderly, or knitting blankets that will be used to help the needy get through the cold winter months – all of these organizations are benefiting from the generosity of Ribbon employees around the world.
For example, the team in Madrid spent the day supporting the Gil Gayarre Foundation, an organization that supports, provides education, shelter and guidance to special needs children and their families. Ribbon employees worked with students and moved soil to help cover needed areas of the children's playground.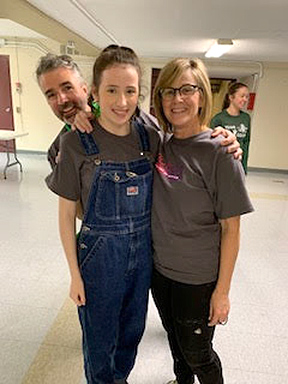 My family and I along with 100 other colleagues from the Ottawa office spent Ribbon Day at The Ottawa Community Housing Project, whose goal is to provide safe and affordable housing to local residents, painting the hallways of one of their local buildings. We'd planned to paint 10 floors but ended up painting 12! One of the most rewarding things for me on Ribbon Day is that I can share this wonderful experience with my family each year. In fact, my daughter has participated in every Global Day of Service from its inception – so she is a welcomed veteran.
Following is part of a note of thanks the team received from the Ottawa Community Housing Project, "I wanted to say a HUGE thank you for all of your work to coordinate this year's event!! The group at 415 MacLaren made such an impact on the building and the tenants who live there are so happy with all the freshly painted walls."
The Brazilian team spent Ribbon Day volunteering at Lar Batista Esperança (LBE), a non-profit that provides educational and cultural opportunities for needy children. In addition to spending time with the children, the team spent the day planting organic vegetables that will help feed the children that LBE serves.
Another thing that makes Ribbon Day so special, and something that employees tell me regularly, is that it gives colleagues the chance to connect in a completely different way and discover a little bit about each other. This year in particular we had two such examples: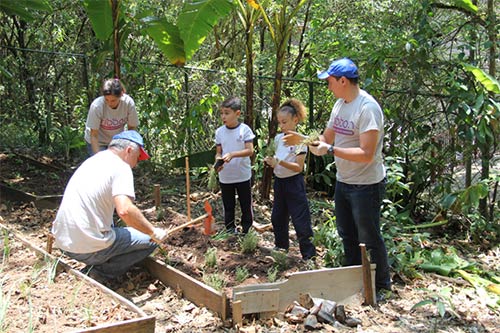 In addition to giving back to organizations in our local communities, Ribbon Day can be a chance to contribute to causes that will help in finding cures for diseases that impact our own employees. Our team in Sydney worked with motor neurone disease (MND) New South Wales to clean up the gardens of sufferers of this debilitating disease. MND, also known as Lou Gehrig's disease for a famous former baseball player who was diagnosed with it, is a degenerative disease that attacks nerve cells.
Unfortunately earlier this year a long-time Ribbon employee, Simon Tipton, was diagnosed with MND. In addition to their local garden clean-up activities,
Simon and Robert Inshaw, one of our Asia Pacific sales leaders, also completed an Ice Bucket Challenge to raise awareness and funds for MND. They are more than two-thirds of the way to achieving their goal of raising $15,000. We are all rooting for Simon.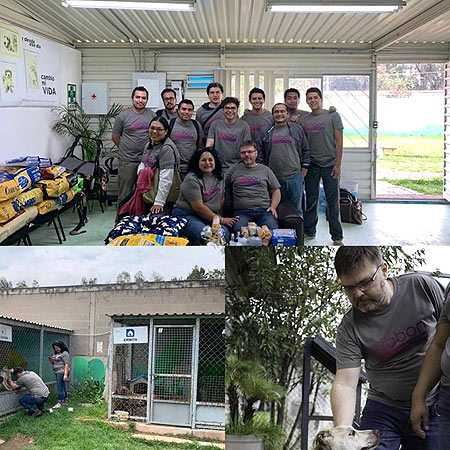 On the other side of the world, one of our UK employees was visiting Mexico on October 25th and took the initiative to contact a colleague there and join the team for Dia de Ribbon. The group worked at a dog shelter and had a chance to connect and get to know each other in person. It was such a positive experience that the UK team banded together to make a donation to the Mexican dog shelter!
I can't think of a better way to close out this blog except by expressing once again my gratitude and pride in the way our Ribbon employees band together to make a difference. Thank you to all of our employees who participated and made this another highly successful Ribbon Day! I also want to give special thanks to our Ribbon Connect teams for their integral role in helping organize local volunteer events, and to our marketing team for their support. Without their tireless efforts Ribbon Day would not be nearly as successful.
Finally, one of things that I look forward to most is seeing the photos of Ribbon Day activities come in from all over the world. It really makes me so proud to be a small part of something so special. You can do the same thing and view this year's photos here.