Getting Started with Zoom Phone
Getting started is as easy as 1, 2, 3:
A Zoom Phone license
A Communications Service Provider that can provide SIP trunks for Zoom Phone. Zoom refers to this connectivity Bring Your Own Carrier (BYOC). The SIP trunks are delivered directly to the Zoom cloud by your carrier or to a premises-based SBC in your office or data center
A Zoom-certified Session Border Controller to terminate the SIP Trunks - Ribbon's Software Edition (SBC SWe Lite), SBC 1000, SBC 2000 and EdgeMarc portfolio are all certified. The SBC acts as a secure voice firewall, mitigates interoperability issues and manages media connectivity.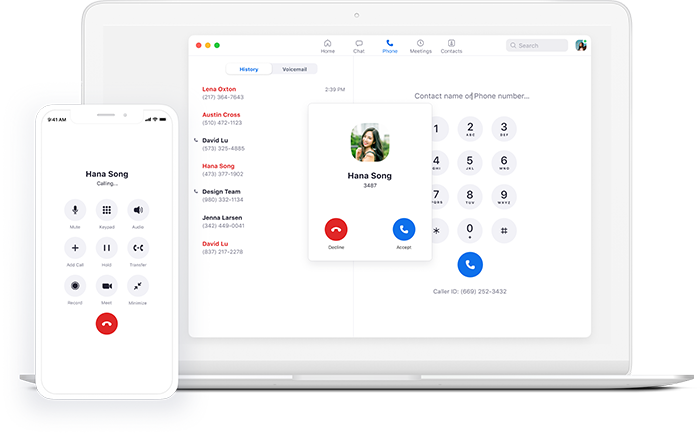 What is the SBC's Role in Bring Your Own Carrier (BYOC)?
Zoom requires a Zoom certified SBC to act as bridge between Zoom Phone and the phone network (the carrier). The session border controller provides multiple functions:
Security – it acts as a voice-aware firewall, protecting the voice traffic itself and prevents bad actors from entering the data network via the voice network
Interoperability – Ribbon's SBCs can adjust key deployment parameters to best match your carrier requirements, making BYOC set-up easy and trouble-free
Legacy Connectivity – many organizations still have analog phones, elevator phones, door phones and fax machines. Ribbon's hardware–based SBCs have analog ports (FXS and FXO) to keep these assets connected and available.
Migration – organizations may have technical or business requirements that require the old PBX to stay connected for an extended period. Ribbon SBCs can provide SIP forking and simultaneous ringing so that both Zoom Phone and the legacy PBX share connectivity.
Resiliency or Fail over – Ribbon SBCs have multiple options to manage disruptions in service depending on the deployment model. These tools can keep your organization connected even if the unexpected happens.
Zoom's Bring Your Own Carrier (BYOC) Deployment Model with a Ribbon SBC

Zoom Phone Local Survivability - ZPLS
Ribbon SBCs are certified to work in concert with Zoom Phone Local Survivability Software (ZPLS). Zoom's ZPLS software is deployed on-site to provide basic calling services, if the Zoom cloud is unreachable. The software works in concert with a Ribbon SBC to provide local access to telecom services (PSTN) – via locally terminated SIP trunks or using traditional analog/digital PSTN lines. The ZPLS software is deployed on a virtual server and remotely managed by Zoom to make deployment easy. If the Zoom cloud is unavailable, ZPLS enables intra-site calling (including directory-based calling). Ribbon's SBCs add PSTN access so users can place and receive calls to/from anywhere – keeping employees connected and customers happy. It's an ideal solution to assure emergency services access at schools, healthcare facilities, or any other mission-critical organization. 
ZPLS software is supported by a diverse set of Ribbon SBCs, including hardware-based models that provide local gateways for traditional analog or digital trunks. This deployment model assures local PSTN access, even if Internet services are disrupted. Review the chart below for SBC models and learn more from our blog post.
| SBC Edge Software/Devices | SBC Core Software/Devices |
| --- | --- |
| SBC SWe Edge | SBC SWe |
| SBC 2000 | SBC 7000 |
| SBC 1000 | SBC 5400 |
Get in the Cloud
Easily deploy Ribbon SBC software in Azure or AWS
Ribbon's Session Border Controller, Software Edition Lite (SBC SWe Lite) instantly deploys in the AWS or Azure Cloud. An organization can deploy a Ribbon cloud-based SBC in seconds to connect Zoom Phone to an organization's BYOC provider for dial tone. There is no hardware to deploy or manage and the solution can scale up or down as needed. Ribbon even offers a 30-day trial license so you can try it before you buy it.
From Headquarter to Branch Offices
Service Type
SBC SWe Edge Software on Public Cloud
Software Image
SBC SWe Edge
Ribbon Applicance
SBC 1000
Ribbon Applicance
SBC 2000
Zoom Certified
●
●
●
●
Award Winning Security
●
●
●
●
Tones & Annoucements Support
●
●
●
●
Comfort Noise & Silence Suppression
●
●
●
●
Network Jitter Compensation
●
●
●
●
Music on Hold
●
●
●
●
Transcoding
●
●
●
●
Purchase Model
Monthly as a Service
or One-time Purchase
One-time Purchase
One-time Purchase
One-time Purchase
Maximum Users
5000
5000
600
1000
Maximum Concurrent Calls
1000
1000
192
600
T1/E1/ or BRI Ports (Connects legacy PBXs)
Local gateway required
Local gateway required
Up to 2 T1/E1
or 12 BRI ports
Up to 16 T1/E1 – 2 x 8 T1/E1 spans
FXS Ports (analog phones, fax, etc.)
Local gateway required
Local gateway required
Up to 24 FXS ports
Up to 48 FXS ports
– 2 x 24 ports
FXO Ports (analog lines for emergency calling, etc.)
Local gateway required
Local gateway required
Up to 12 FXS ports
Local gateway required
More on SBC SWe Edge
Public Cloud
More on SBC SWe Edge
More on SBC 1000
More on SBC 2000
Superior Scale and Performance in the Cloud
Save money by using fewer cloud compute resources
Ribbon has decades of experience building session border controllers for the world's largest carriers. That's why Ribbon understands the importance of reliability and efficiency. Your organization may not need to support thousands of concurrent calls but that doesn't mean efficiency isn't impactful. Ribbon SBCs can run on some of the smallest virtual instances, delivering more capacity for less money. That saves money today and as an organization grows.
Our hardware and software are designed to be operational 24/7, even during upgrades. Ribbon SBCs have undergone rigorous 3rd party testing to prove they can withstand withering attacks and continue to protect the network.