Intelligent Session Control – Unifying Communications
Many enterprises are constrained by disjointed communications systems–combinations of independent PBX islands, branch offices and newer cloud-based collaboration services. Often, IT organizations would like nothing more than to move to a common platform, but the financial implications require a more gradual migration. Along the way, customers and employees are not interested in the nuances of underlying technology, they just want to have a seamless communications experience.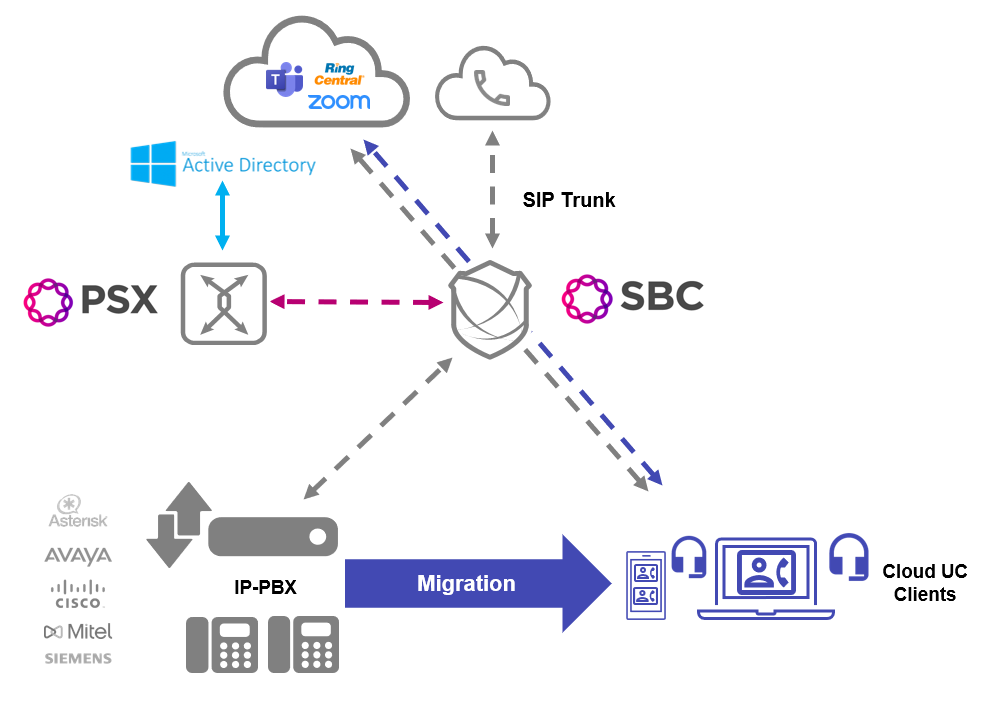 Creating a Normalization Layer
Ribbon's Intelligent Session Control solution provides a normalized SIP layer that transforms fractured multi-vendor, multi-site, telephony environments into cohesive enterprise-wide unified communications systems with uniform directories, dial plan, user policies, features, and security. The solution centralizes both policy and session management, reducing staff time for adds, moves, and changes. End users can more effectively connect between sites using SIP trunking to reduce intra-company and inter-company communication expenses.
Premises or Cloud
Available as a premises-based solution or as a convenient cloud-based service, Ribbon's solution unifies disparate network elements and delivers consistent user experiences across locations and devices. It can even support connectivity between mobile clients and legacy extensions. Once deployed, the highly scalable and reliable solution can also serve as a foundation for a cloud service or unified communications server, sun-setting legacy hardware.
Learn More about Intelligent Session Control
View the Solution Brief to learn more about the deployment architecture and solution capabilities
Multi-site Security and Interoperability
Security is a problem for every organization. However, when an organization has thousands of locations and tens of thousands or hundreds of thousands of employees, security becomes exponentially more complicated.
Conventional security devices, like firewalls, cannot protect unified communications traffic, organizations need to supplement the firewall with a Session Border Controller (SBC). Without appropriate security measures in place, communications traffic can open up the network to new threats and vulnerabilities. All of Ribbon's SBCs provide robust interworking for multiple signaling protocols, call admission control to manage traffic levels, and multiple security features to protect privacy and ensure regulatory compliance.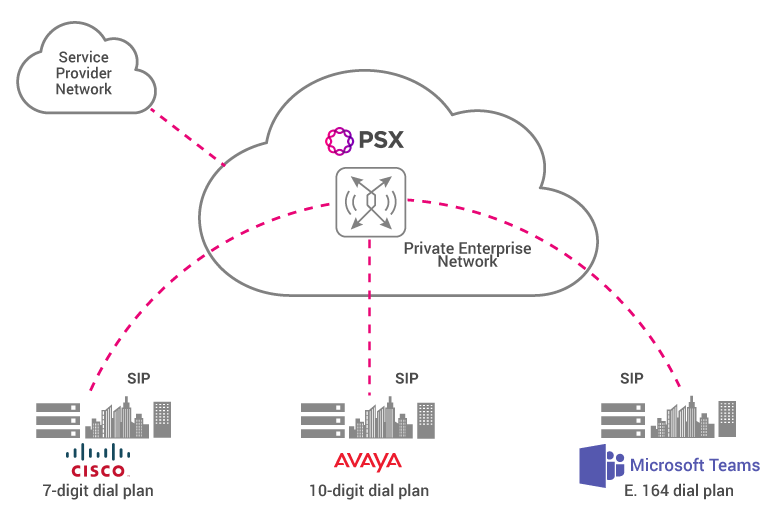 A Ribbon SBC:
Delivers complete security for signaling and media, including traffic policing, Denial of Service (DoS) and Distributed Denial of Service (DDoS) attack detection and blocking as well as protection from rogue Real-Time Transport Protocol (RTP) traffic.
Ensures privacy by encrypting media (SRTP) and signaling (IPSec/TLS)
Prevents unauthorized third parties from accessing the corporate network by hiding network addresses and names.
Improves interoperability by mediating both media (transcoding) and SIP signaling between different devices or services.
Provide TDM-to-SIP and SIP-to-SIP interworking to simplify migration from installed PBXs and interconnected networks to cloud-based services.
Using intelligent SBCs installed in the cloud or at the edge of the enterprise network, the Ribbon solution secures SIP sessions and protects IP communications infrastructure such as cloud services, PBXs, contact centers, media servers, and thousands of other SIP-based devices. Ribbon's flexible and extensive SBC portfolio offers a choice for scale and functionality to meet diverse deployment requirements.
As enterprises migrate to public cloud-hosted collaboration, or contact center applications, they still need an SBC to assure security the same as if it were within their physical domain. With Ribbon's Session Border Controller Software Edition (SBC SWe) or Session Border Controller Software Edition Lite (SBC SWe Lite) you can achieve that goal. In addition, Ribbon Connect be acquired as a cloud service to provide cloud-based security for cloud-based services.
Get Smart about Intelligent Session Control
Read Intelligent Session Control in the Enterprise
Features & Benefits of Enterprise-wide Unified Communications
Complete security for signaling and media, including traffic policing, Denial of Service (DoS) and Distributed Denial of Service (DDoS) attack detection and blocking and rogue Real-Time Transport Protocol (RTP) protection.
Delivers a common routing and policy engine in a multi-vendor enterprise environment.
SBC product families provide common software and management and support multiple deployment options.
Easily Sync with Microsoft Active Directory (AD) for policy and routing decisions.

Cached AD data in PSX relieves AD Server from high volume traffic

Simplify migration from legacy PBX to Microsoft Teams or other cloud services.

PSX has awareness of which users are MS voice enabled

Simultaneously ring legacy PBX and Microsoft Teams based on AD attributes.
Reduce toll costs by minimizing call routes over Service Provider networks.

Customers have experienced 50% plus reduction in telecom toll charges

Handle mixed corporate dial plans and interworking for 'n' digit dialing.