Premium HD communication experiences for VoLTE
Ribbon's VoLTE EVS Transcoding solution promises to revolutionize the voice communication experience with unrivaled quality, reduced cost of service, and differentiated services for mobile operators. Delivered on Ribbon's Media Resource Function Processor (MRFP) platform, EVS transcoding can be deployed on virtual, NFV cloud or hybrid appliance options offering agile and flexible services to driver better operational efficiency. For more information please visit:
Voice Over LTE (VoLTE) & IP Multimedia Subsystem (IMS)
The Ribbon VoLTE and IP Multimedia Subsystem (IMS) solution combines robust IMS service functionality with the ability to securely and intelligently route high volumes of Session Initiation Protocol (SIP) and Diameter traffic together with media processing and transcoding at both the core and the edge of the network. The Ribbon IMS Media Resource Function (MRF) and Media Gateway (MGW) solutions, offer powerful transcoding resources that can be efficiently sized and scaled according to network needs. Ribbon's Enhanced Voice Services (EVS) transcoding capability offers unrivaled voice quality and reduced cost of service through lower bandwidth and capacity requirements with the added benefit of increasing RAN coverage. For more information please visit:
Identity Assurance - Robocall and Fraud Mitigation
What do your customers do when they receive a phone call from someone they do not know or a number they do not recognize? Perhaps they answer it, but far more likely they reject it, send it to voice mail, or just ignore it. In our current telecommunications world, everyone does this, because they are barraged by spam and robocalls and assume the worst – someone wants to pitch something I do not need or want, or this will be an attempt to defraud me.
With Ribbon Call Trust you now have a solution that you enables you to restore their trust in the phone. Even if you have an extension to the FCC requirement to implement STIR/SHAKEN, you still need to comply with the mandate to have an originating robocall mitigation program in place. With Ribbon Call Trust you can commit to your customers that you can meet the FCC mandate. In addition, you can add more value by being able to provide terminating robocall and fraud mitigation so your customers will be at much less risk from bad actors trying to get their private information or trying to prey on them with money scams.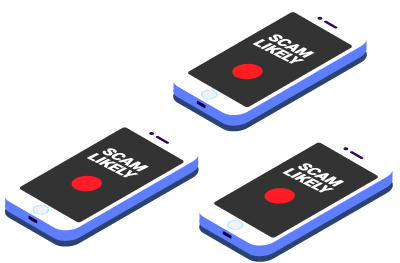 Wholesale Interconnect, IPX and Roaming for Mobile & VoLTE
Ribbon brings decades of global experience in enabling secure and scalable IP-IP and TDM-IP, voice and multimedia interconnect between diverse mobile and fixed IP networks, delivering session connectivity and interworking across diverse IMS and non IMS networks. For VoLTE/IMS interconnect and roaming, Ribbon offers secure signaling and media interworking with VoLTE interconnect and roaming functionality that includes home or local media routing. For more information please visit