Intelligence at the Edge
EdgeView Service Control Center
Cloud-based Service Control Center provisions, configures, and manages edge solutions.
EdgeMarc - Intelligent Edge
Intelligent Edge solutions actively monitor, secure, and optimize service quality.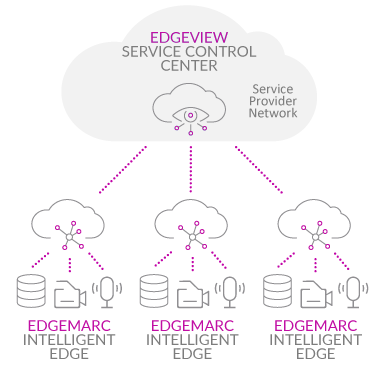 Intelligent Edge Solutions
EdgeMarc Intelligent Edges™ seamlessly pair with the EdgeView SCC to actively monitor, secure and optimize service quality for voice, data, and video traffic. EdgeMarc Intelligent Edges™ offer:
search
Automation Detection
desktop_windows
Service Quality Monitoring
add
Proactive Troubleshooting
settings_ethernet
Interoperability
EdgeView Service Control Center
The EdgeView Service Control Center (SCC) offers end-to-end visibility, from the MSO network to the customer premises to IP endpoints. It can automatically provision and configure Intelligent Edge™ deployment models, give real-time alerts on service quality issues, rapidly isolate service faults and deliver advanced analytics to optimize network performance and service quality.
The EdgeView SCC is used to:
Provision and Manage Intelligent Edges™
Monitoring and Alerting
Troubleshooting and Issue Remediation
Reporting and Analysis